(Last Updated On: January 23, 2023)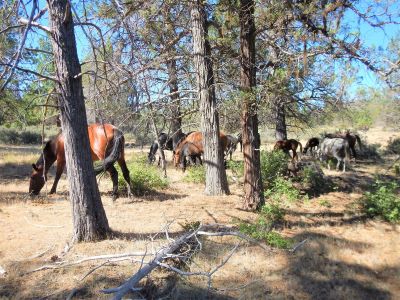 Like a growing number of people in the American West, naturalist William Simpson is intimately familiar with wildfire. He lives in California's rural Siskiyou County where overgrown grass and brush routinely fuel hot-burning and deadly wildfires. This year, the McKinney fire killed four people and burned more than 60,000 acres.
But it was a wildfire four years ago that posed the greatest risk to Simpson's home. The 2018 Klamathon Fire burned uncontained for 16 days, sending giant flames toward Simpson's property.
"The fire just came right up over that ridge," Simpson tells NPR during a visit to his property. "[It] burned all the trees and destroyed all that conifer forest up there."
Yet Simpson's land and much of the local community remained safe. He credits the community's Wild Horse Fire Brigade.
"It started getting into the area where our local herd of wild horses had reduced the fuel… large areas that were grazed open became safe zones for Cal Fire personnel and equipment that were stationed in front of the fire," Simpson says. "These horses helped mitigate the Klamathon Fire."
This local herd is the collective poster child for Simpson's proposal to re-wild horses rounded up by the Bureau of Land Management (BLM) and placed in government holding facilities.
The Wild and Free-Roaming Horses and Burros Act
The BLM is charged with managing the nation's wild horses under the Wild and Free-Roaming Horses and Burros Act of 1971. Congress passed it to protect America's wild horses and burros that had been hunted to near extinction. Whenever the BLM determines there are too many horses in a given area, it can order helicopter roundups.
But the roundup is controversial. BLM helicopters sometimes swoop down above frightened wild horses, chasing them, sometimes for miles, until they're funneled into traps on the range.
Also visit www.wildhorsefirebrigade.org.
by Stephanie O'Neill, NPR