(Last Updated On: February 7, 2023)
Winter has arrived, and in North America, the breed inspection and branding seasons have both passed.
Horse branding season, NOT horse businesses.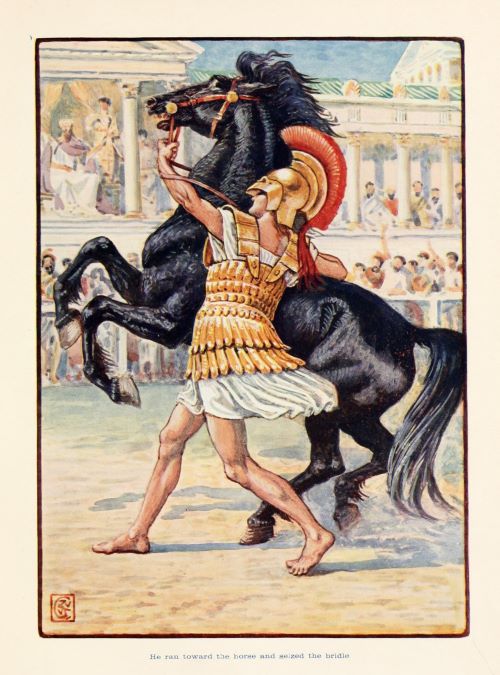 Branding horses happened as far back as Alexander the Great, c. 355 BC – June 326 BC. Alexander the Great's horse was named Bucephalus after the ox-headed brand on its haunch.
Bucephalus was a type of branding mark used on horses in ancient Greece. It was one of the three most common, besides Ϻ, San, and Ϙ, Koppa. Those horses marked with a San were called Samphórai; those with a Koppa, Koppatíai; and those with an ox's head, Bucéphaloi. This mark was stamped on the horse's buttocks and its harnesses.
Branding has been discussed in the context of business if you have any business or marketing experience or have read anything on the subject. Let's examine what that entails in practice.
The Old West used branding to denote ownership of horses and other livestock. Although there was some element of seeking praise for having a superior animal, the main objective was to prevent livestock from being stolen. Legally recovering stolen livestock was made possible by branding.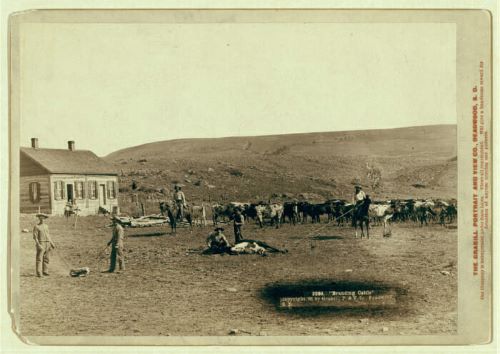 To make it simple to trace a ranch's unique brand, horse brands are registered with state or local livestock brand registries in the United States. In Europe, branding on horses served to identify the animal's membership in a particular regional registry rather than its personal ownership.
This concept, which underlies modern branding of horses in some other North American breeds and breeds with European affiliations, is more similar to the idea of corporate branding. In actuality, it COMPRISES horse breed-specific business branding.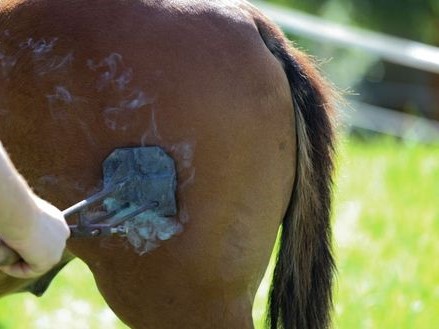 So Exactly what is branding?
It is not a series of freeze-branded symbols, a set of moose antlers, or another breed symbol. These are compared to a company logo or trademark, but they aren't brands in the traditional sense of the word.
A horse's brand stands for everything the breed stands for, including its quality, history, track record of performance, origin, etc. Theoretically, a horse with a breed brand mark should have all the characteristics of that breed and be able to perform up to the standards set by that breed association. For instance, if you are familiar with the mark, you can identify a horse as a Holsteiner or Trakehner when you see one with the brand. You learn some information about the horse's pedigree, history, and potential skill sets right away.
Holsteiner Brand
The easiest way to identify a Holsteiner is by the hot brand on the left hip, which is given to foals when they are inspected for their papers and passport. The strongest asset of the Holsteiner breed is their jumping ability. Even the average Holsteiner usually exhibits great power and scope, and correct technique.

No breeding community in the world has a deeper understanding of the show-jumping horse than the breeders of Holstein, according to Werner Schockemöhle, a well-known warmblood sport horse breeder in neighboring Oldenburg.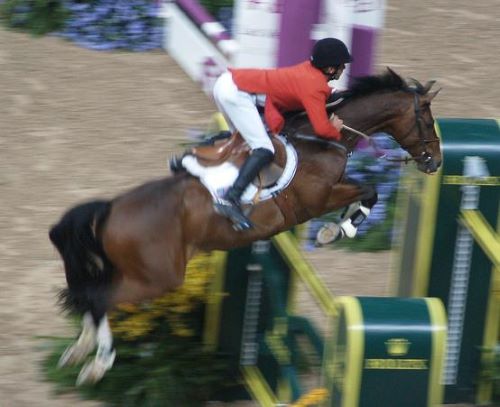 In general, Holsteiners have round, generous, elastic strides with natural balance and propulsion from the haunches. When in motion, Holsteiners resemble their coach-driving ancestors and frequently display more joint articulation than other warmbloods do.
Trakehner Brand
Trakehner is a light warmblood breed of horse, originally developed at the East Prussian state stud farm in the town of Trakehnen from which the breed takes its name. True pure-bred Trakehner show the Ostpreußische Elchschaufel (East Prussian moose horn) branding.

Trakehner's are known for their "floating trot" – full of impulsion and suspension. Horses such as the Trakehner were used in World War II which, at the end, nearly destroyed the breed as Soviet troops advanced from the East.
Although Trakehners compete in almost all equestrian sports, dressage is their specialty because of their sensitivity, intelligence, and gaits. At the Atlanta Olympics in 1996, Peron helped the United States team win bronze. Abdullah, by Donauwind, is well-known for winning the 1985 World Cup and winning the team gold and individual silver medals in show jumping at the 1984 Olympic Games. Heuriger won silver for the show jumping team in 1994 at the World Equestrian Games.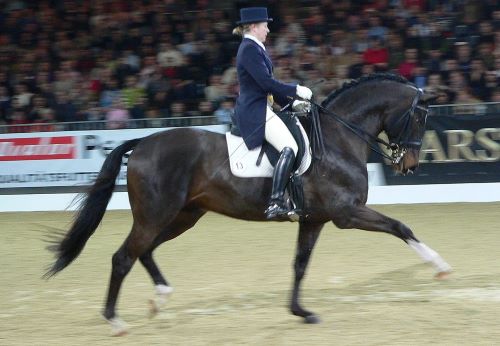 Trakehners typically perform better in the eventing discipline than the majority of other warmblood breeds due to their extremely light build. Olympic bronze medalist Windfall *PG* 2 from the USA's 2004 team is one such instance.
Their journey West, known as Der Treck ("The Flight"), sent the horses on a dangerous journey in frigid conditions across the frozen Vistula lagoon without proper rations or shelter. It is considered one of the toughest tests to which an entire breed of horses has been submitted.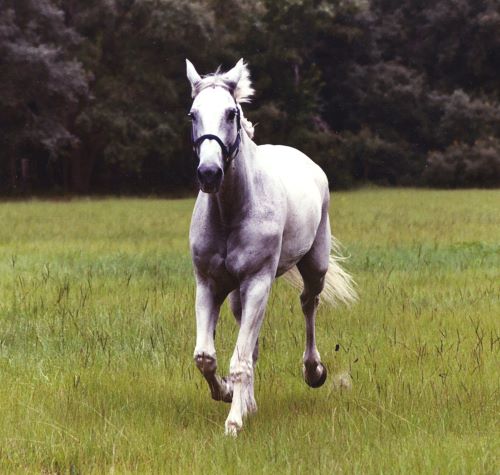 Because the branded horse is a representative of the breed's identity and a walking advertisement, some registries require a physical inspection and approval of the individual horse before giving it a brand. The breed organization's desire to regulate the advertisements' quality makes sense.
DISCLOSURE: THIS POST MAY CONTAIN AFFILIATE LINKS, MEANING I GET A COMMISSION IF YOU DECIDE TO MAKE A PURCHASE THROUGH MY LINKS, AT NO COST TO YOU. PLEASE READ MY DISCLOSURE STATEMENT FOR MORE INFO.
East Prussia Trakehner With Horse Brand 7 – Fan Fun T-Shirt.
The information associated with a product or service is also embodied by a brand. A brand typically consists of a name, a logo, and other visual components. It also refers to the set of expectations that consumers have for a good or service. Wikipedia is cited as a source.
Logos and other such things, like brand marks, serve as a quick way to represent the brand. Those marks have no significance until the brand is established.
From the Ground Up, Build Your Brand
Be the ball, as Chevy Chase's Ty Webb advises in the movie Caddyshack. Embrace the brand. Your personal and professional brand are everything you stand for. Your ability to compete, the level of service you provide to customers, how you conduct business, the trust you inspire in the marketplace, and your reputation all contribute to the development of your brand. An enterprise's identity is its brand. Building a brand requires consistency across all of these areas.
Ironically, I am undecided about whether or not to brand horses. Perhaps it's just the bunny-hugger in me, but I believe branding harms the animal.
For your horse business, definitely, branding shouldn't hurt. To fully grasp the idea may require some mental effort, but creating and growing your brand need not be a painful process.
One thing is for sure, though: The season of business branding is perpetual!