(Last Updated On: May 2, 2023)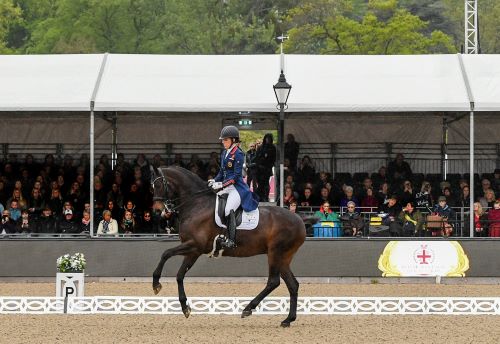 Organisers of the Royal Windsor Horse Show, held from 10-14 May 2023, are delighted to announce that the joint most decorated British female Olympian, Charlotte Dujardin, will be taking part in the Defender CDI4* FEI Dressage aboard Coral Ingham and Carl Hester's striking chestnut gelding Imhotep on Wednesday 10 May and Thursday 11 May. This will be the first international competition for Dujardin following the birth of her daughter, Isabella, in March this year.
The Defender CDI4* FEI Dressage runs over two days and will welcome some of Great Britain's best dressage combinations. The Grand Prix takes place on Wednesday 10 May, with tickets for a limited audience available, whilst the Freestyle to Music will be in front of a packed audience on Thursday 11 May. International Dressage was last held at the Show in 2019, where Dujardin rode to victory with the talented Erlentanz.
The addition of Dujardin and Imhotep means that the Defender CDI4* FEI Dressage will be contested by three of the four British FEI World Championship squad who claimed team silver in Herning last summer, and who will now all be looking to impress selectors ahead of the FEI European Championships later this year.
Show Director, Simon Brooks-Ward, said: "We are thrilled to welcome Charlotte back to Royal Windsor Horse Show. It is brilliant for the fans to be able to witness such high-quality action at the Show, and with so many of Britain's top dressage combinations taking part in the Defender CDI4* FEI Dressage, it is sure to be a thrilling competition."
A full list of entries can be found here.
To find out more about Royal Windsor Horse Show, or to book tickets, visit www.rwhs.co.uk.
For more information, please contact:
Niki McEwen / rEvolution / nmcewen@revolutionworld.com