(Last Updated On: May 14, 2023)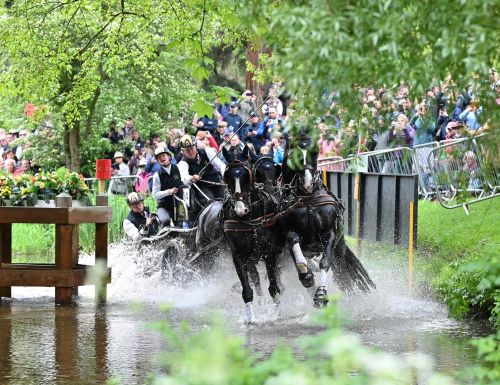 Day four of Royal Windsor Horse Show offered brighter skies and yet more thrilling action. The Services proved they could not only look spectacular — when taking part in the Household Cavalry Best Turned Out Trooper — but could also perform under pressure in The Kingdom of Bahrain Services Team Jumping. International Show Jumping took to new heights with The CSI5* Defender Challenge Stakes and The CSI5* Kingdom of Bahrain Stakes for The King's Cup. Royal Windsor's Home Park hosted the second phase of the CAIO4* International Driving competition, the Marathon, and Showing's elite took to the Castle Arena for the BSPS Mountain and Moorland Ridden Championship, sponsored by New Horizon Plastics.
The second day of international Show Jumping got underway with 28 starters tackling Bernardo Costa Cabral's technical 1.50m course in The CSI5* Defender Challenge Stakes. The competition consisted of two rounds, with eight going through to the jump-off in reverse order.
After a lightning fast first round from Olivier Perreau, the Frenchman was in pole position for the jump-off. Ben Maher and the incredibly careful stallion Enjeu de Grisien were first to go in the second round, and set the precedent for the combinations to come. Fellow Brits included William Funnell and the home-bred Billy Marmite, Lily Attwood and Karibou Horta, and Jodie Hall McAteer, who finished in third with Mandy Hall's Kimosa van het Kritrahof.
There was heartbreak for Daniel Deusser, as he and Kiana van het Herdershof were bumped out of the top spot by a painstaking margin by World No. 4,Martin Fuchs and Viper Z. Fuch's round was picturesque, with his sixpence-like turn from the Rolex oxer to the water tray finishing 0.05 seconds quicker than Deusser, and sealing another 5* win.
Speaking about Viper Z, the former World No. 1 said: "He's really great and is naturally very quick; it's his first 5* show, so I'm delighted with this result. When walking the course, I believed it would suit us, so it's always very nice when it works out. Royal Windsor Horse Show is just such a nice atmosphere, with amazing people who know the sport all around."
Twenty-one of the world's best horse and rider combinations went head-to-head in the pinnacle Show Jumping class – The CSI5* Kingdom of Bahrain Stakes for The King's Cup. First into the arena was Britain's William Funnell riding the 13-year-old chestnut gelding, Equine America Billy Diamo. Funnell showcased all of his experience to jump clear and set the standard for the rest to follow. Clears continued to come in the Castle Arena, including the CSI5* Pearl Stakes winner, Lily Attwood, Belgium's Abdel Saïd, and two members of Britain's FEI World Championship bronze medal-winning team, Ben Maher and Harry Charles.
However, the skillfully curated course did also cause problems throughout, with nearly half of the field accruing four faults. Beneath the historic Windsor Castle, crowds came alight when 68-year-old veteran of the sport, John Whitaker, entered the arena. Whitaker executed a superb clear jumping round, but disappointment came when he picked up two time faults.
Eight combinations progressed through to the jump-off, held over seven combinations. First to go was Belgium's Abdel Saïd riding Arpege du Ru, who won this class back in 2017 and set the standard with an exceptionally fast round of 32.32 seconds. Following Saïd's round, the pressure was on the remaining combinations. It was a tightly fought contest as France's Kevin Staut looked to challenge the lead but could not quite match the pace set, coming home in a time of 33.76 seconds. All British hopes rested on Under-25 World No. 1 Harry Charles, after both Ben Maher and Lily Atwood had a pole down. Charles, who partnered the talented Aralyn Blue, rode a beautiful round, and as he rode down to the last oxer the crowd held their breath in hopes of a British winner. The young rider, however, could only do enough for second, with a time of 32.97 — just over 0.60 seconds slower than the winner, Abdel Saïd.
Saïd said, "I'm really happy with Arpege. She's naturally a really fast mare. I know her really well as I've been riding her since she was eight, so I stuck to my plan and I'm really pleased with how she went. I love competing at Royal Windsor Horse Show; the British crowds are so supportive and they really understand the sport, so it's an amazing experience."
Speaking of his tactics for the jump-off: "I don't usually walk the jump-off course when riding Arpege, as she has such an unusually quick stride, so I spoke to a few colleagues who told me the lines. I tend to just take what I see as it comes, and today it really paid off."
His Majesty King Charles III's horses were in the money again when Katie Jerram-Hunnable piloted the lovely small riding horse, Fools Gold – a seven-year-old home-bred son of Her Late Majesty The Queen Elizabeth II's past Windsor winner, Stardust – to third place in a strong field in the Small Riding Horse sponsored by Mr and Mrs Phil Swallow.
Jerram-Hunnable also partnered the former racehorse, First Receiver, to fourth place in the Novice Riding Horse — also sponsored by Mr and Mrs Phil Swallow — for His Majesty. The handsome six-year-old also shone on day one in the Tattersalls RoR Open In Hand Show Series Qualifier supported by Royal Windsor Racecourse.
Elsewhere, Cheshire-based producer Vicky Smith – champion here last year with her coloured horse Bart – landed her first-ever Riding Horse Championship sponsored by Mr and Mrs Phil Swallow to rapturous cheers in the Castle Arena. She was successful on Paul Mortimer's Royal Illusion (Gracie), who glided round as if on oiled wheels. This eight-year-old mare has been a long time in preparation, and Vicky was quick to credit former producer Jordan Cook for his patience in bringing her on.
"She's not the easiest, but Jordan has done a wonderful job with her," said Vicky, who was sent the mare to produce in June last year. "He's always maintained that Gracie had a big win to come, but he said the key is to give her a varied life at home so that's what I've done. Last week, she was going on farm rides!"
The ever-popular Mountain and Moorland Working Hunter classes showcased not only breed type but skill and scope, with amateur rider Amy Smith taking her fourth Royal Windsor title on her evergreen Connemara, Laburnum Richard — now a sprightly 17-year-old, but looking and jumping like a pony half his age. His immaculate clear round and enthusiastic show contributed to his top score of 93/100.
The BSPS Mountain & Moorland Ridden Championship, sponsored by New Horizon Plastics, held for the first time in the Castle Arena, fell to Amanda Sharman's lovely Connemara stallion, Castle Kestrel, yet another by the prolific sire, Glencarrig Knight. It was the first outing for Castle Kestrel since his victory in the Mountain & Moorland Supreme Championship at the London International Horse Show in 2022.
The second phase of the CAIO4* and CAI3* International Driving Grand Prix, the Marathon, took place and it did not disappoint. The five-and-a-half-kilometre course contained seven obstacles, expanded over the luscious grounds of Windsor Castle. Ten single horse and driver combinations and ten pairs completed the CAI3* course, with fourteen teams completing the CAIO4*. In the single CAI3*, Mario Gandolfo drove beautifully to build on his lead from the Driven Dressage, as did Rens Egberink in the pairs. Disappointment came in the four-in-hand CAIO4* for Chester Weber's team, as they were eliminated for missing a gate. True to form, the Australian World No. 1, Boyd Exell, expanded on his team's Driven Dressage lead to set them up with a 12.9 point lead.
Later in the day, the Castle Arena hosted the final of The Kingdom of Bahrain Services Team Jumping, which saw the best of twenty-nine service teams, each made up of three riders, tackling a course of show jumps. The competition was split over two phases: in the first phase, held in the morning, all members of the team jumped, whilst in the second phase in the afternoon, sixteen riders were nominated for the jump-off.
The Kingdom of Bahrain Services Team Jumping Competition saw a huge field of competitors. The Queen's Cup for working military horses was won by The Defence Animal Training Regiment's team of CoH Mancey, WO2 McGrath, and SSgt. Kershaw. The Queen's Plate for non-horsed units was won by Hurstpierpoint College, while the International Challenge Trophy was won by the Abu Dhabi Police Cavalry.
Meanwhile, in the Frogmore Arena, attention turned to the Inter School Show Jumping Competition, sponsored by Equine Rescue Services, where Seaford College triumphed in the team competition, and Darcie Nobles from Leweston School won the individual title.
Video of the Day: https://youtu.be/EqbL4iKu624
To find out more about Royal Windsor Horse Show, or to book tickets, visit www.rwhs.co.uk.
For more information, please contact:
Niki McEwen / rEvolution / nmcewen@revolutionworld.com