(Last Updated On: May 16, 2023)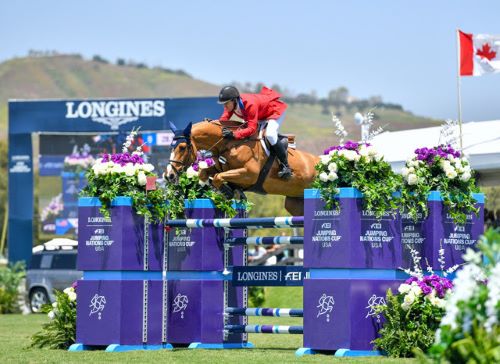 The United States won their second consecutive Longines FEI Jumping Nations Cup™ event Sunday in San Juan Capistrano (USA), securing a comfortable victory in front of a home crowd at The Oaks International Grand Prix Field two weeks after triumphing in Mexico.
The event marked the first Nations Cup event held in the state of California, and Chef d'Equipe Robert Ridland brought forward a powerhouse team that featured Lillie Keenan (Argan de Beliard), Karl Cook (Kalinka van't Zorgvliet), Laura Kraut (Dorado), and McLain Ward (Contagious).
The squad delivered. Over Leopoldo Palacios' (VEN) 1.60m track, they finished on a total score of 12 faults. Ireland finished second (17 faults), with Mexico third (33 faults).
"Qualifying for the Nations Cup [Finals] in Barcelona had to be a major priority, because that's one of two ways left to qualify for the Olympics. We basically took our 'A' team at the beginning of the year and split it in half. We sent the first half to Mexico [and came here] with the other half," said Ridland.
All three riders from the U.S.'s silver medal-winning squad from Tokyo were represented across the two teams. In Mexico, Kraut delivered three clear rounds when prevailing in a jump-off against Mexico. In San Juan Capistrano, it was Ward's turn to lead the way. Ward produced the only double-clear effort on the day aboard his partner from the Tokyo Olympic Games, Contagious.
"I thought Leopoldo set a very challenging track. When I walked it, I have to say I was a tiny bit surprised at how big it was," Ward said. "But it's a five-star Nations Cup. There are huge consequences to this qualification, and that's the way it should be."
The United States boasted a comfortable lead heading into the second round, with more than a rail in hand over Canada. But Ireland launched a tremendous rally their second time around the course. Neither Andrew Bourns (Sea Topblue), David Blake (Claude), nor Conor Swail (Nadal Hero & DB) touched a pole, finishing the round with just a single fault added to their scorecard.
That put a greater amount of pressure on the home nation, but veterans Kraut and Ward were clear for the U.S., securing the victory. Not a single U.S. rider incurred more than 4 faults in a single round of competition.
"When this group of riders that we have here are on form, it suits us when it's more difficult. So I think it worked in our favour," said Ward.
Kraut was the only rider to have also competed in Mexico. In that event, she rode her Tokyo Olympic Games mount, Baloutinue. In San Juan Capistrano, she brought forward 10-year-old Dorado for his Nations Cup debut.
"I was thrilled with him," Kraut said. "I will tell you, in the first round, he definitely was impressed. I agree with McLain that the course was much more difficult than I was expecting, and it caught me off guard. [Dorado] was a little bit shy from the first round, and he could have gotten smaller for the second round, or he could have grown. He grew and rode around beautifully, like he'd been doing it a long time."
With their victory, the United States increased their lead in the North and Central America and Caribbean division; they boast 200 points. Mexico sits second with 170 points, and Canada is third (150 points).
The division concludes in Vancouver (CAN) on 4 June 2023.
By Catie Staszak