(Last Updated On: September 2, 2023)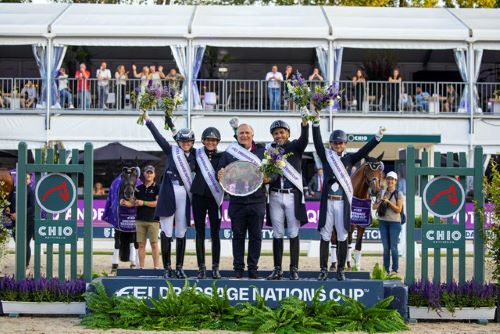 History was made in Rotterdam, as France recorded a convincing victory in the FEI Dressage Nations Cup™ of The Netherlands — a first for the nation in the event.
Led by Chef d'Equipe Jean Morel, the four-rider squad of Alexandre Ayache (Jolene), Pauline Basquin (Sertorius de Rima Z Ifce), Corentin Pottier (Gotilas du Feuillard), and Morgan Barbançon (Habana Libre A) finished the FEI Grand Prix, Grand Prix Special, and Grand Prix Freestyle tests with a winning total of just 11 points.
Germany finished second with 38 points, followed by Sweden (44 points). Each point is equivalent to a finish position of a team athlete, with each team receiving one drop score in the Grand Prix and between the Special and Freestyle tests.
Basquin, Pottier, and Barbançon each made the podium at least once, with Basquin recording a personal best (73.468%) aboard the 13-year-old gelding Sertorius de Rima Z Ifce to finish as the highest-ranked team rider (second individually) in the Special. Pottier also finished second in the Freestyle (78.220%) with Gotilas du Feuillard.
But it was Barbançon who led the way, winning both the Grand Prix and the Freestyle with her 11-year-old gelding, Habana Libre A. "[Habana Libre A] is the best I've ever ridden. He has a great mind, three very good gaits, and he always wants to work. He keeps getting better," she said.
While the Grand Prix test was a familiar one for the pair, the Freestyle offered new challenges. Performing their routine for just the second time, they flirted with 80%, receiving 79.820% from the judges.
"[My horse] was a little bit more tense [in the Freestyle]. It was only our second time riding this Freestyle; I tried it a couple weeks ago for the first time," Barbancon said. "He was concerned to start, because the atmosphere was extreme, and I was a little scared about how he would react. After the first halt, he relaxed and listened to me. I'm very, very proud of him."
France's performance was so dominant, the Nations Cup title had already been secured when Pottier entered the arena for his Freestyle. That put the rider in a unique position, and a second-place finish provided a most memorable bonus.
"That was a bit peculiar, knowing that we had won but still having to ride myself, but it was also quite a special feeling," he said. "I was here for the first time last year with the team. Then, we finished fourth, so to now be the winners is a really nice improvement."
The 2024 Paris Olympic Games will be hosted on home soil for France, making them a primary objective for the French squad. For Chef d'Equipe Jean Morel, a Nations Cup victory served as evidence that his team is on the right track.
"This was real teamwork today. It was more than a year of work together that led to us picking the fruits of our labour today. I hope we can keep improving and keep growing," said Morel.
France now sits third in the FEI Dressage Nations Cup™ standings with 18 points. Germany continues to lead the rankings with 31 points, while Sweden is second with 25 points.
The 2023 FEI Dressage Nations Cup™ season continues at Aachen (GER) on 1 July 2023.
by Catie Staszak