(Last Updated On: September 2, 2023)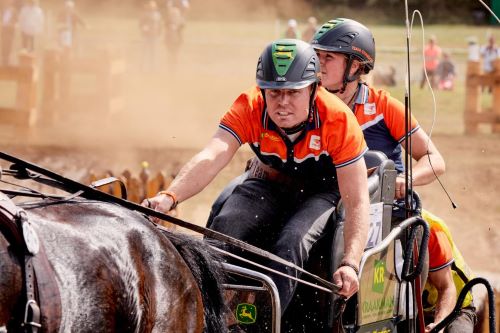 Billed as an 'Ultimate Celebration of Driving,' the combined 7th FEI Para World Driving and the 13th FEI Four-in-Hand European Championship has a bumper confirmed entry of 65 drivers from 17 nations who will contest titles at the Equestrian Centre in Exloo (NED).
The hosts are fielding some of the favourites to take gold medals, including reigning European Four-in-Hand Champion Bram Chardon (NED), who is ranked world number two. Perhaps the closest rival for the crown is his father, the on-form Ijsbrand, who was individual silver medallist at the World Championship in Pratoni (ITA) last year and is just behind his son in the rankings. Both have won this European title twice before and are odds-on to do so again. Both are also members of the formidable Dutch team which won gold in Pratoni, and they fully intend to retain the European gold they won in Budapest (HUN) in 2021, alongside their stalwart compatriot Koos de Ronde, also a multi-medallist. The Dutch fans are famously supportive and there is sure to be a large and passionate crowd cheering on their heroes.
As one of the event's ambassadors, Bram states, "It is extremely motivating to defend a title on home ground. Exloo is a venue which I am really familiar with, and it has a great atmosphere. Because the whole show will be compact, it will be easy for the spectators to see all the action.
"My father will be a serious contender for the title too, but we are not in competition with each other. We don't mind which one of us wins, but our strategy is to win, and all our planning is for this. I have made some changes to my team, but all the horses are experienced and our facilities at home are perfect for preparing them. They are really fit – for the dressage they will have great impulsion and for the cones I have a good combination that works well together."
Multiple Para Medallists
Another strong Dutch squad leads the charge for the Para Drivers, with national coach Ad Aarts selecting multiple team and individual medallist Jacques Poppen, who is a Grade 1 athlete, alongside event ambassador Ingmar Veneman (Grade II) – also a previous team gold medal winner – and first timer Josien de Boer (Grade I).
Having traded Para team golds with Germany over the years, the Dutch will be wary of their old adversaries, who are boosted by long term competitor and multiple winner Heiner Lehrter (Grade 1). Both teams will face stiff competition from a fearsome USA contingent, who have current Grade 1 World Champion Tracy Bowman in their ranks, as well as Great Britain who have seasoned competitors Mick Ward and Deborah Daniels on the squad.
Of the 25 individual athletes from nine nations, Australia will be represented for the first time by Jodie Mckeone, who has already started her campaign in Europe, and Ireland has Emma Golding, who travelled to the European outdoor season's opener CAI Exloo in March. Recently featured in the FEI Para Equestrian Digest, Emma says, "I'm really excited about these Championships, especially as they're my first since 2018 and my first with my Lipizzaner horse Mossy. Exloo will put on a great event and it's very exciting to be running alongside the Horse Fours. The entries for the Paras are showing two very strong Grades, which is brilliant. The addition of the HRH Princess Haya Hand-in-Hand trophy* is great too, and for drivers like me who don't have a compatriot competing in the other class, it offers a chance to make links between two countries for the event."
Strong Squads for Team Medals
Challenging the home nation for the Four-in-Hand title are eight teams which include strong squads from Germany, Belgium, France, and Hungary, a country that dominated the sport during its early years. Forty drivers from 13 nations will vie for individual podium places and include 2015 European Champion and marathon specialist Michael Brauchle (GER), previous European individual medallists Glenn Geerts (BEL), Benjamin Aillaud (FRA), and József Dobrovitz (HUN), who will line up in the team alongside his son József Jnr.
Princess Haya's Hand-in-Hand Trophy
The coveted 'Hand-in-Hand' trophy introduced by former FEI President Princess Haya for Drivers in 2010, after it was launched in 2006 for Dressage, will be presented to the pairing of one Para athlete and one able-bodied athlete who finish with the lowest number of penalties. Current holders are Francisca den Elzen (NED) and Saskia Siebers (NED), who won at the FEI Driving and Para-Driving World Championship 2018 in Kronenberg (NED).
More special prizes are the 'Bartje' awards, which will be given to section and overall winners in all classes. Bartje is a character from a regional novel and symbolic of the province of Drenthe in northeast Holland where the Championship is being held.
The Equestrian Centre in Exloo is a popular venue for all types of equestrian sport, but the sand arenas, grass tracks, and new obstacles have been specially prepared ahead of the Driving Championship. Course designer is Jeroen Houterman (NED), who has worked with show director Arjan Kleinjan and Lieuwe Koopmans from Exloo to organise a layout which prioritises the easy viewing of the obstacles for spectators.
The provisional programme is:
Wednesday 23 August
10:00 – Horse inspection
19:00 – Opening ceremony
Thursday 24 August
09.00 – Para Dressage
16.30 – Four-in-Hand Dressage Part 1
Friday 25 August
10.00 – Four-in-Hand Dressage Part 2
Saturday 26 August
10.00 – Marathon
Sunday 27 August
10.00 – Cones
16.30 – Award ceremony
The Championships will be broadcast live on FEI TV.
* This trophy is awarded to a team comprised of one Para Driving Athlete and one able-bodied Athlete, preferably from the same nation. The team with the least penalty points after the 3 competitions wins the Hand-in-Hand Trophy.
by Sarah Dance