(Last Updated On: October 2, 2023)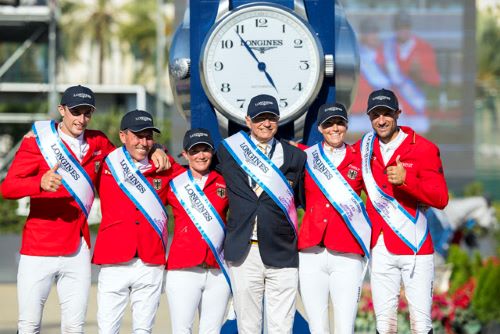 Team Germany posted a convincing victory on the last day of the Longines FEI Jumping Nations Cup™ Final 2023 at the Real Club de Polo in Barcelona, Spain with their zero scoreline giving them a two-fence advantage over their nearest rivals from France, Belgium, and Brazil, who filled the next three placings.
But it was a difficult day for Team USA when their finishing score of nine saw them slot into fifth place and miss out on the much-sought-after qualifying spot on offer for the Paris 2024 Olympic Games which instead went to Brazil.
Switzerland and Great Britain finished sixth and seventh with 12 faults apiece, again separated by the combined times of their team members, while Team Ireland finished eighth and last when putting 13 faults on the board.
It was a very satisfying victory for the Germans who last won in Barcelona in 2016.
"I'm a lucky guy as Chef d'Equipe of this team. I'm super happy and super proud of them; they rode very well," said Chef d'Equipe Otto Becker.
Imposing
Spanish course designer Santiago Varela presented an imposing 14-fence track with multiple forward and holding distances along with a total of 18 jumping efforts that finished with a massive final line of a triple combination to a liverpool vertical standing at 1.63m, located right next to the in-gate.
The Germans didn't get off to the best start when pathfinder Jana Wargers and the 14-year-old mare Dorette hit both the second element of the rustic double at fence 11 and the middle element of the triple combination one fence from home. But Christian Kukuk and the 13-year-old gelding Checker 47 were rock solid when next to go for their side, and when Hans-Dieter Dreher and the fabulous grey Elysium also left the course intact despite some tricky moments, then it came down to Richard Vogel to seal it with the always-extravagant United Touch S. They didn't disappoint.
The 11-year-old stallion very nearly jumped his rider out of the saddle over the first fence, but Vogel held on to produce a magnificent round to leave his side well ahead of the rest of the opposition at the end of the day.
Olivier Perreau and GL Events Doral D'Aiguilly produced the only clear for France while Simon Delestre (I Amelusina R 51), Francois Xavier Boudant (Brazyl du Mezel), and recently crowned European individual bronze medallist Julien Epaillard (Dubai du Cedre) all picked up four faults to leave them on a tally of eight when the best three scores were counted. Their faster combined times of 249.74 gave them the edge over the third-placed Belgian side of Koen Vereecke (Lector VD Bisschop), Niels Bruynseels (Delux van T&L), Wilm Vermeir (IQ Van het Steentje), and Gregory Wathelet (Bond Jamesbond de Hay).
Other business
The Brazilians had other business to attend to, with the Olympic qualification undecided until almost the very end. It was wide open after four faults from Pedro Veniss (Nimrod de Muze Z) and 10 from Stephan de Freitas Barcha (Chevaux Primavera Imperio Egipcio), but the new addition to the team, former Portuguese rider Luciana Diniz, pulled it back with a spectacular clear round from Vertigo du Desert. So when Rodrigo Pessoa (Major Tom) returned with just four faults, they could count just eight in total at the end of the day, and that would do the trick.
The Americans looked to have the situation under control after just single errors from both McLain Ward (Callas) and Karl Cook (Kalinka van't Zorgvliet), but the addition of eight from Devin Ryan (Eddie Blue) left them vulnerable. So although she left all the timber intact, it was the single time fault from their anchor partnership of multiple champion Laura Kraut and Dorado 212 that would cost them dearly, dropping them a single penalty point behind the Brazilians and leaving them facing into yet another Olympic qualification battle in four weeks' time at the Pan American Games in Santiago, Chile.
The excitement in the Brazilian camp was palpable, and Diniz was thrilled to have contributed to their success. "It's 18 years since I last rode for Brazil, and this was my first show after nearly a two years' break. To be in the official team of Brazil in the final of the Nations Cup and to have to qualify for the Olympic Games was so much pressure in a way, but I was just so grateful to be here and now we have this amazing result!" she said of her horse.
Reflected
Meanwhile, Germany's Christian Kukuk reflected on how the competition played out for his side.
"There was a bit of pressure on me after Jana started with eight, but I think also I need it a little bit! I came here with a very good feeling. I knew we had a really strong team, all five of us during the whole season. I was disappointed with one down on Thursday and I really wanted to do better today, and it was good it went well. I was fighting all the way around, my horse jumped good again, and I'm really, really happy to sit here as a winner now!" he said.
He took up the ride on Checker from his boss, Ludger Beerbaum, only two months ago and the pair has already gelled into a great partnership. "I started with a couple of second places at 4-Star shows and then he did great at a 5-Star show, and I won a class in Rome, and I came here with a very good feeling. I was a bit disappointed with one down (on Thursday) but then we brought it on point today and that made me very happy. But I would be nothing without the other three sitting here, and don't forget Jörne (Sprehe), our back-up. She was a good colleague here, a part of the team, and we had a lot of fun here, which is very important for the team spirit. So we are very happy tonight!" he added.
There was a €100,000 bonus on offer to riders who completed double-clears, and it was shared between Hans Dieter Dreher, Switzerland's Martin Fuchs, and Belgium's Wilm Vermeir.
Dreher admitted he was lucky to leave the first element of the double at fence five in place, but was thrilled with how his eye-catching grey performed all week. "Elysium has had a really good season!" he said.
Sitting on a tiger
As for Vogel, although he found himself sitting on a tiger because United Touch was so fresh, he was bursting with pride for the performance he produced that left his team in a league of their own and on the top step of the podium.
"I was hoping I could do something for the team, because until this afternoon I felt like someone who was watching the show but not taking part in it!" he said with a laugh.
He said when he walked the course, he wasn't a big fan of it, because "my horse has a huge stride and always the combinations are difficult for him. We had two doubles and one triple combination, and I said to Otto, 'That gives me a headache,' but he just said, 'Take an aspirin!'"
Talking about nearly being dislodged from the stallion over the first fence, he explained, "Always when he starts, especially at fence number one, he likes to do a spectacular jump and maybe I was a bit rusty, because I was only a visitor for the rest of the week! It's pure energy with him; he's so strong and has so much scope!" he pointed out.
Chef d'Equipe Otto Becker thanked everyone at the Real Club de Polo for a great week. "We are here for ten years for the Longines Final and I'm really happy that it will come back here again; it's the perfect place for it. All week there has been a beautiful atmosphere and that's how we want to see the sport," he said.
by Louise Parkes