(Last Updated On: October 19, 2023)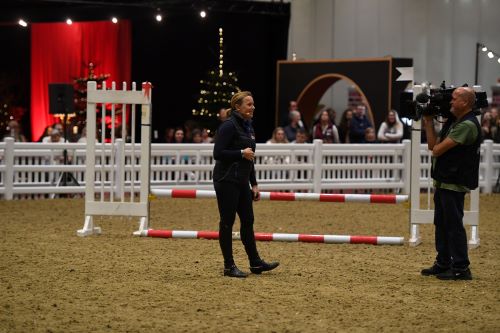 The London International Horse Show has announced a new addition to the LeMieux Masterclass series starring top event riders Pippa Funnell MBE and Tina Cook. Set to take centre stage on Friday 15 December, Perfect Partnerships with Pippa and Tina will pool the knowledge the pair has collected over three decades of riding at the top level of sport, discussing their relationships with both human and equine teammates.
Taking place in the New Horizon Plastics London Arena, Perfect Partnerships with Pippa and Tina is an hour-long lesson in developing those vital connections that produce results at all levels. "It's all about building that friendship with your horse or pony," says Pippa, "to which we all know there are no shortcuts – but that doesn't mean it has to be boring!" Tina and Pippa will put together a range of exercises, suitable for the audience to try at home, which will develop horse and rider partnerships both mentally and gymnastically. "We've both produced horses from the ground up," continues Pippa, "We've both produced youngsters, and we've both produced horses who don't necessarily have the 'whole package' – but this Masterclass is all about working with what you have, emphasising the natural talents and supporting those areas where a horse and rider might be weaker, to create that perfect partnership for enjoyment and success."
Both Pippa and Tina have not only had success at the highest level of eventing, but also in training showjumping and event horses and mentoring winning young riders. Starting with a mix of flatwork and pole work the masterclass will pay special attention to establishing self-discipline and the basic techniques which are the basis of any good partnership, with Pippa and Tina's trademark light-hearted flair. "It's all got to be fun – for both horse and rider," says Pippa. "That's what creates the best partnerships – when both we and our four-legged friends are enjoying ourselves!" Following this, Pippa and Tina will put together the techniques they have covered to show the audience the final product before the audience will have the opportunity to ask any questions they may have.
Perfect Partnerships with Pippa and Tina is the latest in the LeMieux Masterclass Series, which runs throughout the week of the London International and covers topics from dressage and jumping, eventing, driving, and natural horsemanship – all based in the New Horizon Plastics London Arena in the Shopping Village. An informative, exciting mix of masterclasses feature top riders such as Laura Collett, Yasmin Ingham, Richard Davison, Gareth Hughes, Dan Naprous, and others.
Tickets to see Pippa Funnell and Tina Cook at the London International Horse Show are available to buy here.
For more information, please contact:
Niki McEwen / rEvolution / nmcewen@revolutionworld.com