(Last Updated On: October 22, 2023)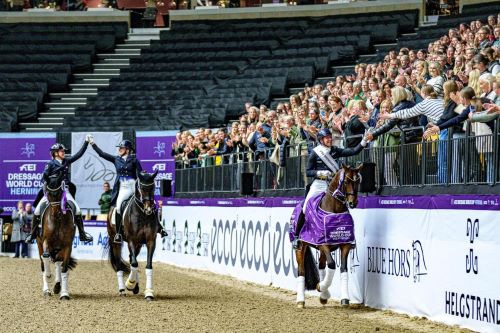 Sweden's Patrik Kittel concluded an exceptional week of success with victory in the first leg of the FEI Dressage World Cup™ 2023/2024 Western European League series in Herning, Denmark.
The 47-year-old three-time Olympian has long been master of the art when it comes to Freestyle performances, and with the 11-year-old gelding Touchdown, he pinned an army of Danes into the minor placings.
On an emotional afternoon for rider Nanna Skodborg Merrald and the entire Blue Hors team, it was Blue Hors Zack who slotted into runner-up spot for the host nation ahead of compatriot Lone Bang Zindorff and Thranegaardens Rostov in third. Fourth and fifth places also went to Denmark, with Andreas Helgstrand (Queenparks Wendy) pipping Anna Zibrandtsen (Quel Filou), while Germany's Felicitas Hendricks (Drombusch OLD) slotted into sixth.
"It's difficult to put in words what a cool experience it was today!" Kittel said. "The last time I won (a qualifier) was in 2017 and I think that was the last time I was really emotional when they played the national anthem!
"I knew all the (Danish) girls and Andreas would be really fighting to get up there and I tried to put that all behind me and go in, and my horse just went unbelievably. I have to say that the lap of honour – with Scandic I'd be holding on for dear life – but Touchdown is so cool, so you are high-fiving the entire audience! It's an amazing feeling and the people in Boxen arena are so supportive; it's great sport and it's a great atmosphere to be in!" he pointed out.
Pole position
All six judges – Per W. Nielsen (DEN), Peter Storr (GBR), Mariette Sanders-Van Gansenwinkel (NED), Susanne Baarup (DEN), Hans Christian Matthiesen (DEN), and Henning Lehrman (GER) – put Kittel in pole position for a soft and fluent test that earned a score of 84.065.
Skodborg Merrald's 82.820 gave her the edge over Bang Zindorff, whose mark of 81.760 was a personal best.
Skodborg Merrald admitted that she was fighting back the tears when the audience greeted her and the 19-year-old Zack with such enthusiasm before they started. "It was bit emotional in the beginning when the audience welcomed me really nicely, clapping a lot. I felt the tears a bit there and I said to myself, 'Come on now, you have to pull yourself together and do your best!' I think he really did his very best and I did as well today!" she said.
The day before, the pair had to settle for eighth place in the Grand Prix due to multiple mistakes. Here, however, they were mistake-free. "He was much more powerful, much more with me the whole way around. I was so, so proud; it was the best possible way for me to finish with him!" she said of the horse that last year helped to make Danish Dressage history when part of the gold medal winning team at the FEI World Championship at this same venue.
Warm-up
Bang Zindorff's warm-up wasn't the way she wanted because her coach and fellow-competitor, Helgstrand, went two horses ahead of her. "Normally he helps in the warm-up, so I had to use my husband! But he did a really good job, and then Andreas came out and helped me for about five minutes. My goal was no mistakes and I succeeded, so it was fantastic!" she said.
Kittel talked about his plan for the FEI Dressage World Cup™ series. "I'm very lucky at the moment to have so many good horses, four top horses in my stables, so one can rest and one can go and it's a luxury that I'm very well aware of," he explained.
"I will do Lyon (FRA) and Stuttgart (GER) with two different horses, and I will take a decision about the Final when the day comes, but first you have to qualify. But the World Cup series is so good. It starts in Herning with an amazing show and Stuttgart, Lyon – they are all mega shows, so whether you aim for the Final or not, it's great just to compete. I just take one show at a time and enjoy it!" he said.
Four wins
He lined out in four classes at Herning and won all four, including the 3* Grand Prix and Grand Prix Special with Gallerias Bohemian, the 13-year-old gelding that carried Denmark's Cathrine Dufour to the Tokyo 2020 Olympic Games and to individual silver and bronze at the FEI European Championships in 2021.
He talked about the pressure of taking on such a successful horse from another top rider. "Everyone has very high expectations and it's not so easy. People are very quick to judge you, and Cathrine did such an amazing job with this horse. But even with the most well-educated horse, you have to become a partner, and that takes time. I've only ridden him for 2.5 months and I need time to get to know him. Horses are not machines, and neither are we, and we have to connect with them.
"Here in Boxen it was a risk taking him. I know the Danish audience has seen him with Cathrine, and I wanted to do good and do the horse justice and Cathrine too. Here was the first time we did two fault-free tests together and that's a lot of fun!" he said.
Top ride
Kittel also competed Skodborg Merrald's latest top ride, Blue Hors Zepter, in the past and he talked about what happens when horses move between top riders.
"I adored that horse and Nanna adored that horse. People think we are grumpy with each other when a horse changes (to another rider), but if the horse does well with another rider it actually gives me confidence that I did a good job with that horse! She rides it and does an amazing job, better than I did, but I'm happy with that! The horse has developed and bloomed… it's part of the business and part of the game to do that, and it makes us riders happy to see the horse is performing well with someone else," he insisted.
by Louise Parkes