(Last Updated On: October 23, 2023)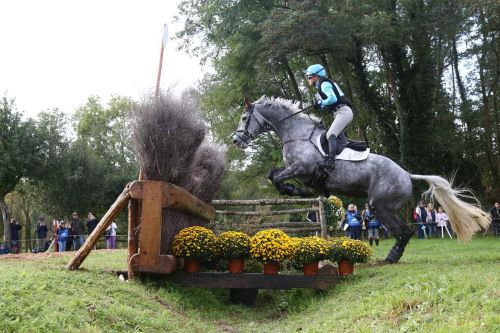 Since 2000, Le Lion d'Angers has played host to the most prestigious championship for young event horse – The FEI WBFSH Eventing World Breeding Championships for Young Horses. With a litany of famous equine winners, it highlights the connection between breeding and performance, and champions both stallions and breeders of event horses from across the world.
Many horses that have competed in Le Lion d'Angers have gone on to excel at international and even championship level. A vast number of stud books were represented in both the six-year-old and the seven-year-old championships this year, with the top prizes going to a British bred six-year-old mare and French-bred seven-year-old mare.
It was a fairy tale win for Golden de Beliardaa and Thomas Carlisle in the seven-year-old World Championships. This classy Anglo Arab mare is sired by Upsilon who Carlisle successfully campaigned to Championship level and appeared on a number of French national teams. Golden de Beliardaa is out of the mare Vieusinge du Maury by Jalienny and has been produced by Carlisle. This athletic little mare jumped a double clear to finish on her dressage score of 28.3 penalties.
Speaking after his victory, Carlisle was emotional about her performance. "She gives everything she has. This little mare is a ray of sunshine; she paws at me every time, so I am a little exhausted, but I am really happy. She had a great season; everything she has done she has done really well. I am not thinking what comes next for her; we will see what happens next season. She is exceptional because she is a little reduced in her chassis, but she has a lot of desire. She is not one we intend to sell with her breeding and because she is a mare."
The seven-year-old class proved to be a hard-fought contest throughout, with less than a penalty separating the top five horses on the final leaderboard. The runner-up of this championship was Kiarado d'Arville, ridden by Lara De Liedekerke for Belgium, who was narrowly defeated by Carlisle after picking up 0.4 of a time penalty in the jumping phase – this cost her the victory as she wound up just 0.1 penalty behind, on a final score of 28.4. The striking Belgian gelding is sired by top jumping stallion Diarado out of Nooney Blue by Jet Set Du Rezidal. Lara De Liedekerke has future Olympics in mind with this horse. "He is a fantastic horse; I am so happy. He's a horse I plan very strongly for Los Angeles. He is very efficient in all phases."
Third place went to another French-bred mare, Gravure de la Mouline by the Selle Francais stallion Eldorado de Hus out of the mare Quandy de Hus Z by Que Guapo. Ridden by Astier Nicolas for France, the mare finished on her dressage score of 28.7.
The Championship for six-year-old horses was won by the British bred mare, Barrington Alice, ridden by Izzy Taylor (GB) and owned by long-standing event horse owner, Johnny Hornby. The flashy grey mare is sired by dual-purpose stallion Cevin Z out of Allercombe Mayday, who was sired by the prestigious Thoroughbred stallion Kuwait Beach. The pair produced a stunning test to put them into second after the dressage, before jumping clear inside the time on the cross-country phase. The heat was on in the jumping phase with less than a fence in hand, between the top seven horses after the second phase. Taylor and her spring-heeled mare kept their cool, to jump a clear round with just 0.8 of a time penalty and finish on a score of 26.9.
Speaking after the result, Taylor summed up her mare's performance. "We are very happy with her. She's a very exciting horse for the future. I rate her very highly and I think she's a Senior Championship horse. She handled this week and every phase very professionally. She jumped a super round today; she was never going to touch a fence. The course was plenty tough enough and the time was tight enough for babies."
Taylor is a previous winner here, having won the six-year-old championships on Monkeying Around in 2018 – the horse on whom she has since been short-listed for Senior Championships. "I have won here with two very different horses, but have ridden them both since four-year-olds. This horse is bred by Susie Holroyd, who also bred my horse Allercombe Ellie, who was meant to go to Rio (Olympics), so maybe this horse will.…"
Taylor has competed on a number of British senior teams with different horses and very much hopes to be the one to take her up the levels. "She will have a holiday now and come back for next year. Hopefully she will win the seven-year-old Championships next year. Barrington Sports Horse own her; they own several lovely young horses and if someone really wants to buy them they can, but hopefully that won't happen and she will go to the top with me."
Second place went to the French-bred Hermes Du Gevauden ridden by Stephane Landois, finishing on their dressage score of 27.7. The Selle Francais gelding is by Quintus D'09 and the dam is Amber Du Gevauden by Quality Touch. "The horse is normally a good jumper, and the course was tough and the time was tight today, but he delivered. For the future he will do the seven-year-old season and hopefully come back here next year. The goal for the end of the season was coming here."
In third place on a score of 28.8 was Cooley on Ice and Amanda Goldsbury from New Zealand, who was competing here at Le Lion for the first time. Her Zangersheide mare was very inexperienced, but is another exciting horse eventing under the world-famous Cooley prefix. "We've only had her since June and she had never evented. She had only done four events before coming here, but she has an amazing attitude; she's brave and careful and a lot of fun to ride."
Riders and owners were full of praise for this popular event, which is always famed for its imaginative cross-country fences and testing but educational tracks. The course was once again designed by the prestigious French Designer, Pierre Michelet.
by Eleanore Kelly