(Last Updated On: October 28, 2023)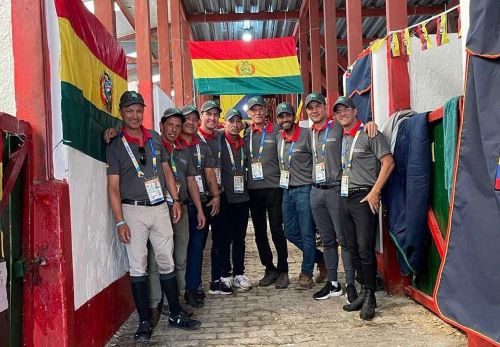 Bolivia is poised to compete at the highly anticipated Pan American Games 2023 in Santiago (CHI) from 20 October to 5 November, with two exceptional riders, thanks to the support of FEI Solidarity. This support has been instrumental in nurturing equestrian talent in Bolivia, from grassroots development to championship-level performance.
Pan American Qualification through South American Games
The athletes secured their positions at this year's Pan American Games by clinching 2 individual spots at the South American Games 2022. Over three years, FEI Solidarity's Athletes' Training Programme has backed the Senior team, offering support to 29 dedicated athletes. Despite the training disruptions caused by the Covid-19 pandemic, the team's determination led to a commendable 3rd place finish at the Bolivarian Games (24th June – 4 July 2022), with Daniel Bedoya and Rodrigo Bedoya both achieving top-ten rankings.
Two Bolivian Athletes to Compete
Bolivia has two nominated entries for the Jumping phase of the Pan American Games: Diego Bedoya with Skara Glen's Para Bellum Bol and Reynaldo Daza with Doria One Loar Mystic Rose; with three spots for the Paris 2024 Olympic Games up for grabs at the Pan Ams, the stakes are high.
At 27 years old, Diego Bedoya, alongside his 12-year-old gelding Skara Glen's Para Bellum Bol, has had a busy season, competing up to 1.55 meters at CSI4* events in Saugerties, NY and the CSI 3* Grand Prix in Mill Spring, NC (Tryon).
Reynaldo Daza, a seasoned campaigner, was one of the first riders to represent Bolivia at the 2018 FEI World Equestrian Games in Tryon with Chacco Balou. His equine partner for the Pan Am Games is a recent addition to the team. "I am very excited and happy about the Pan Am Games, and excited that they will be held in Chile, which is a really nice celebration for the South American community," said Daza. "I'm hoping to do my best, enjoy, and get the best results possible in this event."
Brazilian coach Marcello Artiaga De Castro, the Programme Lead, expressed his confidence in the Bolivian riders, saying, "Bolivia will compete at the Pan Am Games with two riders currently based in the USA, Diego Bedoya and Reynaldo Daza. They have enough international experience, and their Coach will be Mr. Daniel Bedoya, who is also USA based and as a rider won Individual Silver and Team Bronze Medals at the 2022 Bolivarian Games in Colombia, as well as a strong 6th place finish individually at the 2022 Odesur Games in Paraguay. They will be fighting to get an individual spot for Bolivia at the Paris 2024 Olympic Games."
Nicholas Rahmi, Technical Manager at the Bolivian Federation of Equestrian Sports and Chef d'Equipe for Jumping at the Pan American Games 2023, shared this Marcello's sentiment: "Our participation in the Pan American Games and the results obtained last year are successes, but also a motivation to go further. We would really like to qualify for the Olympic Games, in this cycle or the next."
Team Bolivia's impressive results reflect the Programme's success. At the Senior National Jumping Championships, they showcased a new level of jumping prowess, with the course set at a challenging 150cm.
Vital Role of FEI Solidarity Funding and Support
"For developing countries like Bolivia, FEI Solidarity funding and support are vital," emphasised De Castro. "Without their financial assistance and knowledge transfer, achieving two medals at the Bolivarian Games (Individual Silver and Team Bronze), contending for medals at the Odesur Games (a very close 6th place finish individually), and qualifying the Team for the Pan American Games would have been significantly more challenging.
"We worked tirelessly for almost two years, amid a global pandemic, organising several clinics, virtual chats, and trials in Bolivia to elevate the standard. I must point out that in this quest, I have had tremendous support also from the whole Bolivian Equestrian community: NF Board, riders, owners, veterinarians, local and international course designers, grooms, sport fans… they all believed that Bolivia could improve and do better. Undoubtedly, FEI Solidarity's funding and support lent much-needed credibility to the project."
FEI Solidarity's Expanding Support
Looking to the future, FEI Solidarity is expanding its support by financing a second Athletes' Training Programme in Jumping, this time for Youth. This initiative is aimed at nurturing talent from an early age and enhancing their technical abilities. With 37 athletes and 12 local coaches actively engaged, this project lays a strong foundation for the future development of Team Bolivia.
Check the FEI Solidarity Hub here.
You can follow the Pan American Games 2023 on FEI TV and the FEI YouTube channel.
by Rhea Freeman