(Last Updated On: October 28, 2023)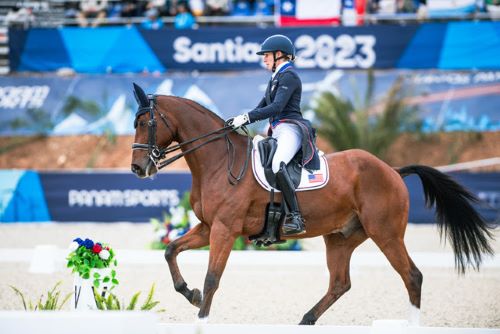 The defending champions from the USA took a firm hold at the top of both the team and individual leaderboards when the Dressage phase got Eventing underway at the Pan American Games 2023 in Quillota, Chile.
Performing the CCI4* test, it was Sharon White who took the early lead on a score of 28.2 with her 11-year-old Holsteiner gelding Claus 3, and then US team-mate Caroline Pomacku overtook her when putting 26.8 on the board with her Irish-bred eight-year-old gelding HSH Blake. But leading the last group of the day into the ring, Liz Halliday and Miks Master C shaved another two marks off the target score to go into the cross-country phase at the head of affairs on 24.8.
The California-born 44-year-old described her 11-year-old gelding as "a keen bean; he has a big engine and he wants to get on with the job! It's a pretty electric atmosphere in there; this horse has been to Kentucky and he definitely noticed it. I had to work to keep him relaxed," she said after delivering a really smart performance.
The pair finished third in Kentucky this year, the biggest achievement of the 44-year-old rider's career. "It was his first 5*; he's an amazing horse, a very exciting horse for the future. We haven't been together all that long so it's really great to be here," Halliday said.
Course
Looking ahead to the second phase, she described the cross-country course as "a little twistier than Kentucky! I don't think eight minutes will take a lot out of Miks; he's an amazing galloper, 16.2hh, not tall but strong and solid in his body. He has a huge stride, which makes him look tremendous with so much push and lift!"
She singled out the Cavalry Bank at 20AB, close to home on the 23-fence track, as one that could prove influential. "I've jumped Irish banks in Ireland at Millstreet, and the step at fence seven is sort of a quirky thing too that you'd find there. They are quite clever, something most of our horses haven't seen, and they get your attention and make you think. There's plenty to do out there on that course!" she said.
She thinks it shouldn't be under-estimated. "This is a big senior championship and it's important. Nearly when you're on a horse that has that experience, it makes you focus a little more, because the jumps are a little smaller – it's still a tricky track and anyone taking it for granted would be very silly!" she said.
Attention
The course that starts in the main arena over the Vina del Mar Clock fence, before moving into the polo field at the military base and then out across open country, is the centre of everyone's attention now. Designed by Frenchman Pierre Le Goupil and built by Jump1's Dominic Moore from Great Britain, it is colourful, clever, and a whole lot of fun. The two men worked together just once before, at the FEI Eventing European Championship 2023 at Haras du Pin in France in early August.
"We don't talk enough about the builders who have fantastic skill and creativity," said Le Goupil. "Six months ago, I didn't know who I was going to work with. I had an idea of what the course should be technically speaking, but the details of the fences I didn't know because it depends on the materials you have and who is going to do the job. Dominic is creative and it has been an exchange of ideas between us," the Frenchman explained.
The Pan American venue in Quillota is very different to Normandy. "Here natural material we would normally use is not available or is very different. At the end, though, the result is fantastic and everybody loves the way it has been built and presented. Now it has to please the riders and spectators tomorrow, and we will let the sport talk!" Le Goupil said.
He explained the principles he adheres to when designing fences for riders with differing levels of experience at the PanAms.
"The course has to provide an opportunity for everyone to finish, but it should not be too easy. We need to have a first, second, third, and last! Safety is the priority, but too easy is never safe.
"It has to be challenging enough so that they pay attention, questioning enough so they stay focused; we need to keep them mentally busy and paying attention all the way along," he said. The optimum time is 8 minutes 3 seconds.
Delighted
Course-builder Dominic Moore is delighted to be working alongside Le Goupil again, in a very different setting to the French countryside. "It's a great experience for us to do two Championships on opposite sides of the world!"
"At the Europeans, we had big rolling hills and natural timber and when we came here, we wanted to do something totally different," he explained. His build team includes Charles Mathews and John Williams, who both run crews for Jump 1 in Europe, Aert Vandergoes from Maarsbergen Horse Trials in Holland, Raymond Martins, who builds for Eric Winter in Argentina, Eric who has come along to help, and Hannah Mathews, who is in charge of flowers. Many of the fences have been beautifully painted by the Coddou family, who live locally. The father of the family is a former Commander at the military base.
The fourth member of the US team, Sydney Elliott, who is lying tenth with Qc Diamantaire, will be first out again. USA heads the team leaderboard on a score of 79.8, Canada lies second with 93.5, Brazil is close behind on 99.9, and Mexico is in fourth place on 109.2, followed by Uruguay, Chile, Argentina, and Colombia, in that order.
Startlists and Results here.
by Louise Parkes