(Last Updated On: October 29, 2023)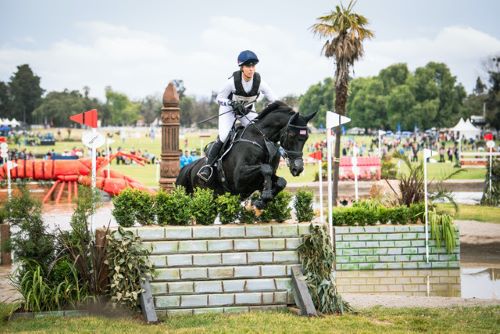 USA's Liz Halliday lost her grip on pole position with Miks Master C on cross-country day in Eventing at the Pan American Games 2023 in Quillota, Chile, but she only slipped one place to individual silver medal spot behind team-mate Caroline Pamukcu, who took over the lead with HSH Blake. Americans continue to dominate the team standings with Sharon White and Claus 63 remaining in third spot individually.
The US team scoreline is 86.2, and after impressive cross-country performances. Brazil lies second on 101.5, while Canada holds third spot on 105.2 ahead of Argentina in fourth on 194.4. Mexico is in fifth on a score of 209.00, while Chile is in sixth on 1161.8, Uruguay is in seventh on 1185.8, and Colombia has a scoreline of 2081.1.
There are two team qualifying spots on offer for the Paris 2024 Olympic Games, and since USA has already booked their ticket, it is Brazil and Canada who are poised to make the cut, if all goes according to plan.
Perfect start
America's Sydney Elliott and Qc Diamantaire got the day off to a perfect start with a copybook run across the 23-fence track to come home clear and well inside the time to remain on their Dressage score of 33.3, which promoted them from overnight tenth to seventh place.
Her 13-year-old gelding made it look deceptively easy when he stopped the clock in 7 minutes 53 seconds, well inside the optimum 8 minutes 3 seconds set by French course designer Pierre Le Goupil.
"I love cross-country day so much. I had a job to do what I did this morning and blaze the way. Ideally, I wouldn't like to be first out, but I had confidence in my horse and it went to plan!" she said.
Together the pair has competed twice at Kentucky (USA), Aachen (GER), and this summer at Luhmuehlen (GER). "He knows his job so well, so I just tell him 'Buddy, if I make a mistake, cover me!' and he always does!" said the rider who relocated from Louisiana to Southern Pines, North Carolina (USA) last year.
While 20 of the 34 competing combinations returned without fence penalties, only six made the time, and it was the clock that relegated Dressage leader Halliday to individual silver medal spot when she picked up four time penalties with Miks Master C.
"I wish I could have gone a little bit faster, but that's what we had today. He was a good boy, very brave and very honest. He just got a bit backed off by the turning questions at the beginning, and it took us about half the course to find our galloping momentum. Quickness is not his forte," the American pointed out.
By the time she headed out, her team-mate Sharon White and Claus had already come home with 2.4 penalties to add, which was still good enough to hold on to third place.
Buzz
The Chilean public poured into the military base in Quillota and the buzz all around the cross-country course was electrifying. "There were so many people shouting and yelling, he got a little excited in the warm-up. and I'm just so thrilled with how he stayed concentrated!" White said of her horse.
She had a nervous moment when Claus hesitated as he jumped over the Lobster drop into the first water complex at fence five – the Casino Fountain. "That was because there were two of us jumping in at the same time, because Mike (Winter, CAN) was going in the same direction, but he was on his way home! So I had to shout to myself, "Focus, focus!'" said the rider from West Virginia who posted a personal-best in Dressage.
Caroline Pamukcu and her Irish-bred HSH Blake set off at the halfway stage of the competition and crossed the finish line in exactly the same time as compatriot Elliott. With nothing to add to her Dressage score of 26.8, she would move ahead of Halliday when cruising home without incident.
She is a busy lady who is not afraid of hard work. At the 5* fixture in Maryland (USA), she won the 2023 USEF CCI3*-L in which she had three rides along with five more horses in the Young Horse classes.
HSH Blake is still only a relative youngster at eight years old, but he took the course completely in his stride.
"I want to thank my Federation for giving me a great prep for this competition. We were recently sent to Strzegom in Poland for the Nations Cup, and I feel that really prepped us for this. This was a great track for him," she said.
She described the course as "a 3* track with 4* questions, so it's quite difficult. I made sure on the galloping tracks I moved along, and then I had to set him up more than normal because the fences are smaller than what he's used to jumping.
"It's a championship course, very fun to ride; the ground was unbelievable; they did such a great job and each jump is so perfectly decorated – it's kind of what you dream of!"
Established
Meanwhile, the Brazilians were also cementing the second-place team spot they established in the Dressage ring. Team pathfinder Ruy Fonseca (Ballypatrick SRS) collected 19.6 time faults on his cautious tour of the track, but both Carlos Parro (Safira) and Rafael Mamprin Losano (Withington) were double-clear to stay on their dressage scores, and when anchorman Marcio Carvalho Jorge (Castle Howard Casanova) picked up just 1.6 time penalties, they stayed ahead of the Canadians who, however, are less than four penalty points behind them.
Mamprin Losano said the course "took quite a lot of riding. This is a big scopey horse and some of the track was lovely and galloping and some parts were jump-and-turn. You had to go at 4* speed to be in the time, and I'm very lucky that this horse is an absolute machine, because he made my job a lot easier!"
Carvalho Jorge's neat run leaves him lying in overnight fourth, while Canada's Lindsay Traisnel and Bacyrouge, who stopped the clock precisely on the optimum time of 8.03, have moved into fifth individually ahead of compatriot Karl Slezak with Hot Bobo in sixth.
Perspective
Carvalho Jorge put some perspective on what success, or even experience, at these Pan American Games means to athletes in the region.
"The Brazilian team has come for the Olympic qualification, but not just for that; we come to get a medal at the PanAms, because this is really important for our country. I'm based in England for the last eight years, but I rode all my life in Brazil, and I know how important this is for Brazil and all the other countries here. Because this is the biggest competition we have in Central and South America.
"When we are young, we grow up dreaming about the PanAms. It means a lot for the sport because it needs to grow; we can't have this sport existing just in Europe and America anymore. Games like this keep these countries alive, keep them dreaming, keep them working and training for the future," he said.
Startlists and Results here.
by Louise Parkes