(Last Updated On: January 23, 2023)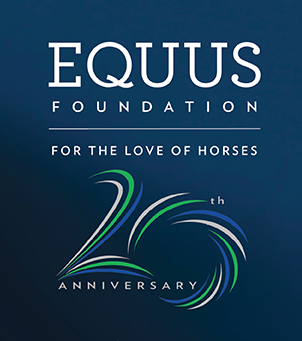 "There's no better way to kick off our 20th Anniversary than being voted the favorite equine charity in 2022 by the readers of Equestrian Living," said Lynn Coakley, EQUUS Foundation President. Read the feature story in the November-December issue of Equestrian Living here.
The EQUUS Foundation was born from love of the equestrian sport and the need to provide care to horses after their sport careers are over. The EQUUS Foundation awarded its first grants in 2003 to seven equine charities based in Connecticut and the metropolitan New York area.
Now, in its 20th year, the EQUUS Foundation supports 150 equine charities nationwide and is undertaking its most ambitious campaign in its 20-year history. "We've set the bar to raise $2 million to double our support of equine charities across the United States and to double our endowment to ensure that America's horses are protected now and in the future," said Coakley. Read more about our plans to celebrate our 20th Anniversary here.
Horses bring joy to millions of people, and help make those with the deepest of wounds whole again, but tens of thousands of horses are abused, neglected, and shipped across our borders for slaughter each year. NO HORSES should be subjected to the inhumane fate that awaits them – especially because there are solutions within our reach.
The EQUUS Foundation would like to express its appreciation to the readers of Equestrian Living for voting for the EQUUS Foundation as their favorite equine charity for 2022 and for featuring our story in the November-December 2022 issue.
To learn more about the EQUUS Foundation and their mission, please visit www.equusfoundation.org.