(Last Updated On: February 10, 2023)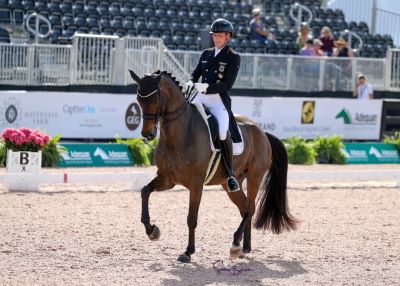 Two classes brimming with talent highlighted opening day of the Adequan® Global Dressage Festival (AGDF) Week 5. The Centerline Stables CDI1* Prix St. Georges and Havensafe Farm CDI-W World Cup Grand Prix set the tone in Wellington, FL. A man who is no stranger to victory, Frederic Wandres (GER) aboard Bluetooth OLD, a 2010 Oldenburg (Bordeaux x Riccione), truly stole the show with their impressive score of 74.913%. A very competitive runner-up score went to France's Morgan Babançon aboard Bolero scoring a 71.782%, and third went to Ashley Holzer (USA) and Valentine who were not far behind finishing on a score of 71.174%.
While incredibly proud, an ever-humble Wandres admitted that he and Bluetooth OLD still having room for improvement before achieving even more success. "I thought today went much better than the last time CDI here. He was a little more fresh and forward, even though the weather is a little bit warmer than last time. There are still many things to develop, but overall, it was good. He showed consistency in a test like this, and I thought this world cup qualification here was probably the strongest so far, so I'm very happy."
Alexander Yde Helgstrand Takes the Spotlight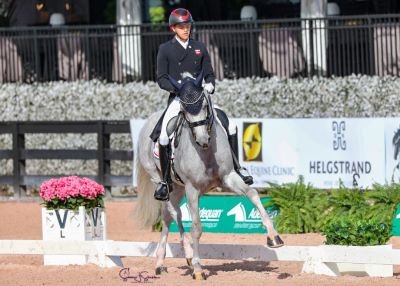 All eyes were on Denmark's Alexander Yde Helgstrand and Belantis during the opening class of AGDF 5 on Thursday morning as the dynamic pair won the Centerline Stables CDI1* Prix St. Georges.
An impressive lineup of twenty-six horses and riders came together for the CDI1*. Only three pairs scored in the 70s, including Amanda Perkowski (USA) and Sontana MF, who placed third with a 70.196%, and Charlotte Jorst (USA) scored a 70.392% aboard Zhaplin Langholt. However, the highest score of 72.206%, a personal best score, went to Alexander Yde Helgstrand (DEN) and Belantis, a 2009 DSP gelding (Benetton Dream Frh 1301 x Expo'se) owned by Helgstrand Dressage USA.
Helgstrand was beyond pleased with his horse's performance. They have been a team for about two years and all of their hard work, combined with a strong partnership, seems to be paying off. "Today, some of the highlights came from my trot. I felt like I had a really good trot, which is something we have been working really hard on at home, so I was very pleased to see that come together."
For more information and results, visit www.globaldressagefestival.com.