(Last Updated On: March 11, 2023)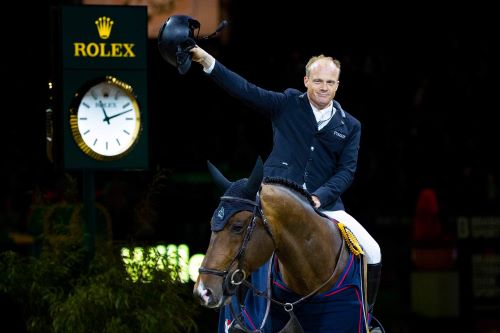 Held under the bright lights of the Brabanthallen, 39 riders, representing 13 nations, contested Friday's feature class – the VDL Groep Prize – on the second day of The Dutch Masters 2023. This impressive line-up featured no less than 8 of the world's current top 10 ranked riders, including the Rolex Grand Slam of Show Jumping Live Contender McLain Ward, World No. 1 Henrik von Eckermann, and the Rolex Grand Prix defending champion Daniel Deusser. In addition, 12 riders from the home nation contested Louis Konickx's masterfully designed course.
First to enter the arena was Britain's Scott Brash, the only winner of the Rolex Grand Slam of Show Jumping, riding the nine-year-old stallion Hello Valentine, who set the standard with a flawless clear round. Second to go, Simon Delestre with the feisty Cayman Jolly Jumper, followed suit to ensure a jump-off. To the delight of the Dutch crowd, three riders from the home nation secured a place in the second round, including 60-year-old Loewie Joppen, who put in an impressive performance aboard Havel van de Wolfsakker Z.
12 horse and rider combinations successfully made it through to the jump-off, over a shortened course of 8 fences. Brash set the early pace as the first to go, with a clear round in a time of 42.10 seconds. His lead looked to be in jeopardy as Delestre set off meaning business, coming home in an exceptional 37.54 seconds, but accruing four faults en route. Janne Friederike Meyer-Zimmermann, the only woman in the jump-off, temporarily took over pole position as third to go, but with Delestre's speedy round, the following riders knew the time was beatable.
The lead changed several times before Dutchman, Willem Greve, set the crowd alight riding Grandorado TN N.O.P., stepping up the pace once more to post a clear in a time of 36.62 seconds. It was left to Harry Charles, as last to go, to attempt to knock Greve off the top spot, but despite an impressive display of speed and agility, his time of 37.93 was only good enough for second place.
Speaking after the class, Greve said: "I am extremely happy to win in front of my home crowd. The first round was big, but it was fair on the horses – it is the second biggest class of the show so it should be a real test, and I thought it made for a great competition. I have had this horse since he was three years old, so I have a produced him throughout the levels, which makes this win even more special. He is just such a super horse, and I have worked hard over the winter to improve his rideability and his fitness – he is feeling fabulous now, so I am looking forward to Sunday."
When asked about his tactics going into the jump-off, the Dutchman said: "I was near the end of the class, so I managed to watch a few other combinations before I went in. I thought that if I got a good jump at the second fence, that I could do seven strides to the next and then take advantage of his big stride down to the last fence and it worked out very well!"
© 2023 Rolex – Rolex Grand Slam