(Last Updated On: March 13, 2023)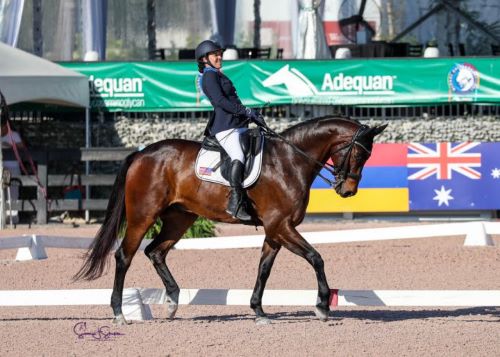 The final day of action in Perrigo CPEDI3* week nine of the Adequan® Global Dressage Festival (AGDF) hosted freestyle para action in all five grades. The four-time Paralympian Rebecca Hart (USA) added yet another blue ribbon to her trophy cabinet in the Grade III class. She recorded her third victory from three starts this week aboard Fortune 500, Rowan O'Riley's 13-year-old Oldenburg gelding by Fidertanz. The 38-year-old posted 75.611% — a full five percentage points clear of second-placed Meghan Beige (USA). They have now won five international classes in a row.
"We had a very successful and very busy week because I've been doing three horses through this entire CPEDI," explained Hart, who also competed her Tokyo Paralympic team bronze medalist El Corona Texel and brought her new horse, Floratina, to school. "I was happy with how everyone went and also how my body held up because I've never done that before."
In the Grade V, Cynthia Screnci (USA) also landed three wins riding her own and Volado Farms' 16-year-old Sir Chipoli, by Sir Donnerhall. The 55-year-old former jumper rider led the freestyle with 72.192%, despite using music and a floorplan designed for another horse. This extends the pair's unbeaten international streak to 18 tests.
"Today was the first time we've done this test as we've been so focused on getting his back soft and supple and collecting him and working on the movements and gaits for the first two tests," admitted Screnci, who contracted a bacterial infection in 2015 that led to osteomyelitis — a bone inflammation — and 26 surgeries.
"I had written choreography and done the music myself and realized it's not my forte, so today was interesting because I used this freestyle which was done for my other horse, Danny, who is 17.3hh and has much bigger gaits. He's much more of a goofball so you have to do a lot of turns to keep him busy so he doesn't get naughty. Chip needs choreography that is more flowing and long so he can show off those beautiful gaits. We were kind of jamming it all in today, but I think the judges rewarded us for our overall way of going. Now we can go and put a true freestyle together for him."
For more information and results, visit www.globaldressagefestival.com.