(Last Updated On: March 19, 2023)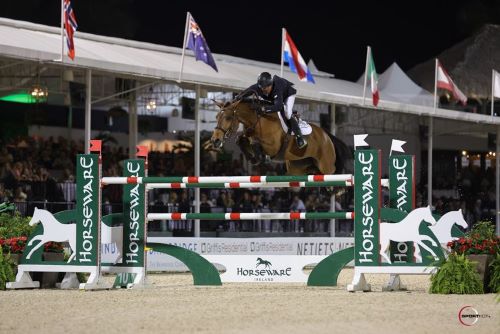 U.S. Olympic team silver medalist Kent Farrington has found yet another leading lady in Toulayna with a win in the $226,000 Horseware Ireland CSI4* Grand Prix under the glow of 'Saturday Night Lights'. Befitting of St. Patrick's Day week, the event highlighted Week 10 of the Winter Equestrian Festival (WEF) at Wellington International in Wellington, FL.
Stepping up to the biggest test of her career to date, the nine-year-old Zangersheide mare could not be caught over the Andy Christiansen Jr. (USA) designed jump-off track and ticked the box for her first grand prix win. Nine horses advanced to the tie-breaking short course where the lead changed five times.
"This is definitely the biggest track she's jumped," said Farrington of the mare that was also third in the NetJets CSI4* Grand Prix during WEF 3. "I have high hopes for this horse. She's fast, careful, and everything I like in a show jumper."
Catch Me Caught Top Spot in NetJets 3'3″ Amateur-Owner Hunter Division
Becky Gochman and the ever-impressive Catch Me sat at the top of the NetJets 3'3" Amateur-Owner Hunter 36 & Over division leaderboard with a 92 over fences on Saturday.
Gochman and Catch Me, a 2007 Holsteiner gelding by Casiro I, came back from a bobble in the first class over fences with redemption on their minds. "Going into today, I was hoping for a clean sweep after winning three classes yesterday, but it was not to be due to total rider error," said Gochman, whose determination clinched wins in all but the one effort with a pair of 88s and a win under saddle on Friday. "I forgot where I was going at the last jump and was very disappointed – even my horse was surprised when I pulled him up. He knew something wasn't quite right.
"[Going into the second class] I told myself to slow my brain down," said Gochman. "Even at age 16, my horse was getting down the lines a little early, so I went in for the second round and was able to relax and he jumped beautifully. I'm incredibly thankful for him and my team."
Wellington International
news@wellingtoninternational.com
www.wellingtoninternational.com