(Last Updated On: March 27, 2023)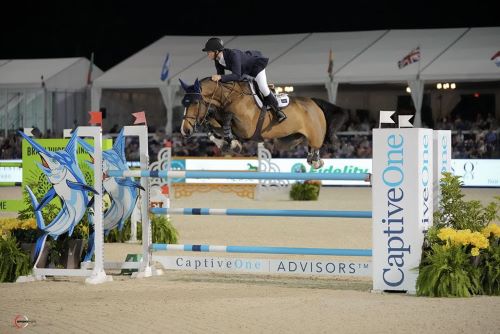 Twelve weeks of 1.50m competition came to a peak on Saturday evening in the $146,000 CaptiveOne Advisors CSI4* 1.50m Series Final during the penultimate week of the Winter Equestrian Festival (WEF) at Wellington International. From a field bursting with talent and international accolades, U.S. Olympic team gold medalist McLain Ward sealed the deal with Quimi del Maset from a 12-horse jump-off with only a second to spare.
Coming off a Rolex Grand Slam win at the Dutch Masters just a couple weeks ago, Ward has carried the momentum back to WEF.
"I did a jump-off two weeks ago with him and he's actually quite a quick horse because he's predictable. He's got a big stride and you can really take a risk because his brain is incredible," said Ward. "I was going to ride my round, but I thought for sure maybe some of the more experienced horses could nip us. We were lucky; this was his start under the lights and we are thrilled with how he performed.
"The horse had been on my radar last year, but the previous owners weren't 100% sure they wanted to sell, but they were generous in thinking about the potential for the horse maybe going to the Olympics for the U.S. and worked with my group to get him here. I'm very grateful," said Ward of the horse previously produced by Bolivian rider Daniel Bedoya, who jumped the then eight-year-old in the Central American Games in 2022 and earned an individual silver medal in the Bolivarian Games the same year.
While Ward stole victory during 'Saturday Night Lights', Darragh Kenny's consistency throughout the season earned the Irish rider the 2023 CaptiveOne Advisors 1.50m Series overall title. With three recent top-five placings on three different horses, Kenny sealed the deal.
"I've been coming here for twelve years, and this is probably the best season I've ever had," said the Irish Olympian. "I have some great horses at the moment; they all performed excellent during the season and I'm happy they had that much success.
"I had a couple of good and experienced horses between Vancouver Dreams and Chic Chic who were amazing all winter," continued Kenny. "I'm very lucky I have a couple of really good owners right now and some nice horses, so it's been a top season for me. WEF is a great place where you can build up horses and your older horses don't have to do so much, but there's good prize money when you do jump them."
Wellington International
news@wellingtoninternational.com
www.wellingtoninternational.com