(Last Updated On: March 28, 2023)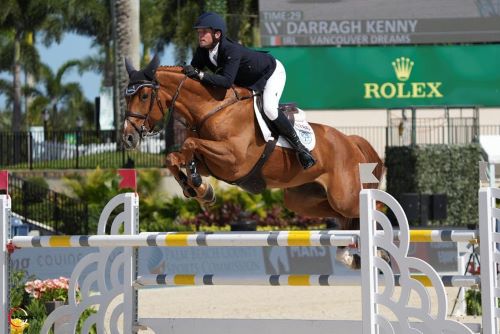 The penultimate week of competition at the 2023 Winter Equestrian Festival (WEF) ended at a high point for Ireland's Darragh Kenny in the $226,000 Bainbridge Companies CSI4* Grand Prix on Sunday afternoon at Wellington International. The 35-year-old Irish Olympian continues to make his debut season with 13-year-old Hanoverian mare Vancouver Dreams a winning one.  
With only U.S. challenger Lillie Keenan left to come behind him from a seven-horse jump-off, Kenny did just enough to keep the win in hand. Vancouver Dreams (Valentino 240 x Stakkato) broke the timers in 36.18 seconds over the Olaf Petersen Jr. (GER) designed track.
Kenny qualified for the grand prix during the Adequan® WEF Challenge Cup on Friday, but elected not to jump off with Vancouver Dreams, a strategy that paid on Sunday. "You don't have to worry about the jumps in the jump-off, you just have to get the right spot. She's an incredible horse.
"She's like 15 out of 10 careful, so the most important thing is to get her to relax, come down a little bit and not stay up in the air," said Kenny, who took over the ride on Vancouver Dreams at the start of the year after being handed the reins from Austria's Max Kühner. "She tried her guts out today and was brilliant. You can't help but love her."
Wellington International
news@wellingtoninternational.com
www.wellingtoninternational.com