(Last Updated On: April 19, 2023)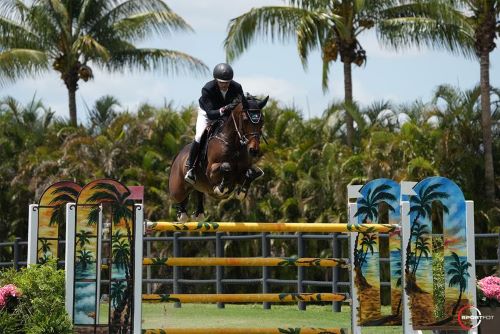 Wellington, FL – April 18, 2023 – The second week of the 2023 Spring Series, presented by Florida Coast Equipment, brought international and national show jumping competition back to Equestrian Village's grass derby field. As competition came to a close, all eyes were on Ireland's Conor Swail as he galloped to the top of the leaderboard in the $35,000 Arthramid Vet National Grand Prix, his second grand prix win of the day.
After winning the morning's $146,000 Bainbridge Companies CSI3* Grand Prix, Swail delivered once again, but this time aboard his "horse of a lifetime," Count Me In, owned by Mannon Farm and Sandy Lupton. "It's a great day," said Swail with a smile. "I had two great horses, and they both jumped fantastic."
Swail and Count Me In, a.k.a. "Crosby," began their partnership in the spring of 2021 and collected several notable victories and top placings last year, including a win at CHI Geneva, a top placing in the World Cup qualifier at the Washington International Horse Show, and most notably winning the Aga Khan Nations Cup™ at The Dublin Horse Show.
"This is probably the best horse I've ever ridden," Swail expressed. "This week, we jumped national because I'm just trying to rebuild his confidence, and we've had a good week. He jumped twice, was second in the first class, and won today. I wanted to get him back on the grass and get our season going again. He loves the field here."
For the full results of the $146,000 Bainbridge Companies CSI3* Grand Prix, please click HERE.
Amira Kettaneh Shines in Inaugural ESP Spring Equitation Challenge
The future of U.S. show jumping looked bright as junior equitation riders took center stage at Wellington International to compete in the Inaugural ESP Spring Equitation Challenge, presented by Arion Sellier USA, on Friday. The new annual equitation championship allowed junior riders to show in the International Arena and be judged on their execution and style. After three rounds of competition, Amira Kettaneh of Hollis, NH was crowned the winner from two judging panels made up of Brian Lenehan, Randy Roy, Mark Jungherr, and Sissy Wickes.
On competing in the expansive International Arena, Kettaneh shared, "I was excited to compete in the International Arena today. It's a great opportunity for juniors to be able to get in the big ring. I went in and wanted to gain confidence, not necessarily to win. At the end of the day, every round is for confidence. It's great to win, but if you're smooth and consistent, you're going to have a higher chance of winning."
Twenty-eight qualified combinations contested the first round, designed by Danny Moore (USA). The first round featured an S-line question and varying fence challenges, including a trot fence. The top 12 were called back in reverse order for a second round, which tested the riders further with a simple change of lead between fences. Four riders returned for the final phase of testing: Kat Fuqua, Parker Peacock, Josselyn Mersereau, and Kettaneh.
For the full results of the Inaugural ESP Spring Equitation Challenge, presented by Arion Sellier USA, please click HERE.
Wellington International
news@wellingtoninternational.com
www.wellingtoninternational.com