(Last Updated On: May 11, 2023)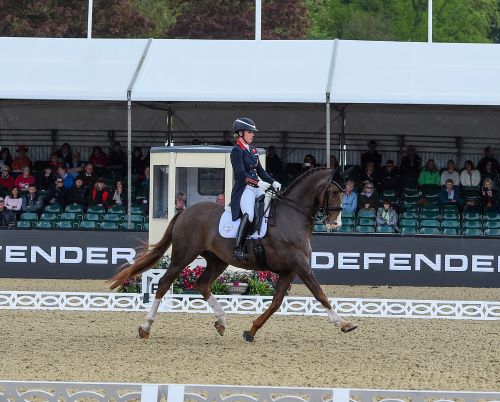 Royal Windsor Horse Show 2023 got underway with The Defender CDI4* FEI Dressage Grand Prix, the standalone class for the first day of the Show's 80th year. Returning after a three-year hiatus, the Defender Dressage opens five days of top-class international equestrian sport held in the private grounds of Windsor Castle, and ensures this prestigious venue is the only show in the UK to host international competitions in Show Jumping, Dressage, Driving, and Endurance.
Twelve combinations contested The Defender CDI4* FEI Dressage Grand Prix, including three of the four British FEI World Championship squad who claimed team silver in Herning last summer, and a strong British contingent ensured great excitement for the home crowd.
A fantastic first test from Royal Windsor debutant Lewis Carrier scored an impressive 70.435% with Diego V to keep him well up the ranking and secure eventual fourth place. The Wiltshire-based 26-year-old, who currently trains with Carl Hester, rode a KWPN warmblood he has produced himself from a four-year-old. Following him into the ring, Louise Anne Bell and Into the Blue couldn't quite match Carrier's score to finish on 68.761%.
Third to go, Charlotte Dujardin, formed an early lead with 77.261%. The joint-most decorated British female Olympian pulled off a reliably stylish test aboard Coral Ingham and Carl Hester's striking gelding, Imhotep. The ride – Dujardin's debut return to international competition following the birth of her daughter, Isabella, in March this year – proved a textbook performance, with the expressive chestnut producing beautifully elastic work to wow the crowd in the famous Castle Arena.
Her FEI World Championship teammate, Gareth Hughes, was next up with Classic Briolinca. The 17-year-old mare by Trento B, who has been such a stalwart of the British dressage scene, impressed the judges with highlights in the passage and piaffe, but could not quite match the impressive score laid down by Dujardin.
British based German rider, Kathleen Kröncke, with the 16-year-old San Royal 3, were the last combination to enter the ring before the break. The pair who triumphed in the 2022 British Dressage Championships – where they won the Grand Prix title – could not quite repeat their success and went into provisional fifth with 68.043%.
Charlotte's lead was unrivalled as the second session progressed. First in after the break, Ireland's Abigail Lyle who rode Farrell scored 68.413% to move ahead of Kröncke by a fraction of a mark. However, the rest of the field's chances faded when Britain's Emile Faurie came to the fore with the stunning mare Bellevue, producing an accurate and pleasing test in the afternoon sunlight to slot in behind Dujardin and Hughes in third place with 71.826%.
On her return to top level competition, Dujardin stated: "I haven't competed for 8 months, and Pete [Imhotep] hasn't done a competition since the FEI World Championships. I have only been back riding for 3 weeks – so I was worried I would be a bit ring rusty – but he was incredible and was so positive with his energy. There are still areas that we can improve on which is exciting – we are now aiming for the FEI European Championships this summer."
Dujardin continued: "I have such amazing memories of Royal Windsor Horse Show having competed here in the Showing as a child – it has such a wonderful atmosphere and to be back here is just so special. It is now Isabella's time to support Mummy and I hope I have done her proud."
To find out more about Royal Windsor Horse Show, or to book tickets, visit www.rwhs.co.uk.
For more information, please contact:
Niki McEwen / rEvolution / nmcewen@revolutionworld.com