(Last Updated On: May 22, 2023)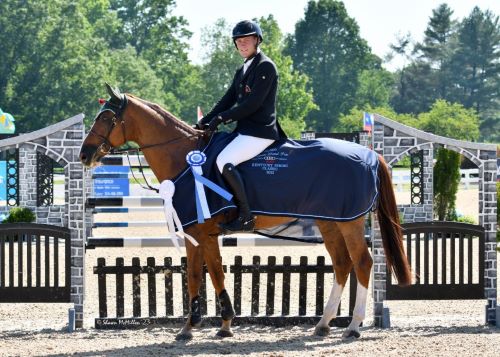 Lexington, Ky. – May 21, 2022 – The two-week Kentucky Spring Classic series came to a close Sunday afternoon in the Rolex Stadium as athletes gathered for the $35,000 Bluegrass Grand Prix sponsored by Audi of Lexington for one final shot at a top finish. Out of a field of 23 competitive entries, just 9 cleared their way to the jump-off for a chance to vie for the first place honors. In the end, it was Rupert Winkelmann (GER) and Eickendorf Horses' Quinn 33 who emerged victorious to claim the last win of the spring series.
Collin Sweetnam and Coppertone Claim the Junior Grand Hunter Champion Award
The sun rose over the Kentucky Horse Park Sunday morning, marking the final day of the Kentucky Spring Classic Horse Show. This time, it was the junior athletes' turn to compete for the Grand Junior Hunter Champion award, presented by Hagyard Equine Medical Institute. With the same guidelines as the other Grand Hunter Champion awards, top junior athletes and their mounts worked to put together successful rides across a two-day span in an effort to accumulate the most points amongst the group of athletes. Points towards the title were awarded to the horse-and-rider combinations in both the 3'3" and 3'6" sections of the junior hunter divisions. Ultimately, Collin Sweetnam and Coppertone tallied several top scoring rides on both Friday and Saturday to emerge victorious and take home the coveted honor.
For more information about the Kentucky Horse Shows, please visit www.KentuckyHorseShows.com.