(Last Updated On: May 22, 2023)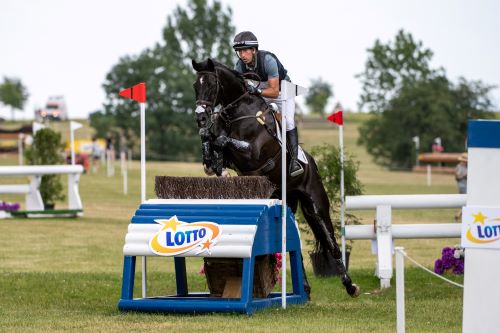 The competition for the Nations Cup in the equestrian triathlon will take place at the hippodrome in Morawa during LOTTO Strzegom Horse Trials. Will the Polish team take the win once again?
The FEI Eventing Nations Cup season began in March in Montelibretti, Italy. The tour includes eight legs all over Europe. After two competitions, the Belgian team are the current leaders. This year, the fight is not only about Nations Cup points. A high position in the classification of the entire series is a chance for teams that have not yet qualified to secure their team for the Olympic Games – Paris 2024
During LOTTO Strzegom Horse Trials, the fourth leg of the Nations Cup will be settled. In Poland, it will be the highest-ranked class in eventing, i.e. an equestrian triathlon, in which riders and their horses compete in three trials: dressage, cross-country, and show jumping.
For the last three years, the Polish national team ended the fight at the Strzegom stage of the Nations Cup for with a place on the podium, and last year, for the first time in history, the white-and-red team were victorious.
In addition to the Nations Cup, the sports program includes as many as nine international classes from one to four stars, including ones for all youth categories. Powerhouse eventing teams have already announced their participation: Great Britain and, for the first time in history, a team from the United States.
"This year we celebrate the jubilee 20th edition of the competition. Much more than the sporting spectacle awaits the fans. The program includes many attractions for the audiences. Let's celebrate together," says Marcin Konarski, chairman of the organizing committee.
The Hobby Horse competition, which has recently been beating popularity records, will be a surprise innovation. It is a new sport discipline in which competitors challenge themselves on "horses" made of a horse's head on a wooden bar, and the rules of competition are inspired by the regulations of equestrian shows. The two-day tournament, on June 24-25, will be held in eventing for the first time in Poland.
The program also includes performances by stuntmen who will present their vaulting skills in the show of the Caucasian jigitovka, as well as dog agility shows.
The competition will take place on June 22-25, at the hippodrome in Morawa near Strzegom, Lower Silesia. Admission is free.
Contact:
www.strzegomhorsetrials.pl
press@strzegomhorsetrials.pl