(Last Updated On: September 2, 2023)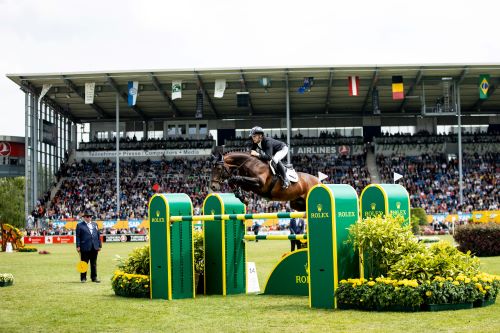 Geneva, 3 July 2023 – The podium of the 2023 Rolex Grand Prix at CHIO Aachen was an all-German affair with Marcus Ehning riding Stargold to victory and adding a third equestrian Major title to his stellar career. Second place went to fellow countryman Daniel Deusser riding Killer Queen VDM, with third place going to compatriot Philipp Weishaupt riding Zineday.
Ehning is now the new live contender of the Rolex Grand Slam of Show Jumping with the next Major being the CSIO Spruce Meadows 'Masters' Tournament, taking place in Calgary in September. Considered the sport's ultimate challenge, the Rolex Grand Slam of Show Jumping is a prize awarded to the rider who wins consecutive Majors at three of the world's four most historic shows, namely The Dutch Masters, the CHIO Aachen, the CSIO Spruce Meadows 'Masters' Tournament, and the CHI Geneva.
Rolex's affiliation with CHIO Aachen spans over 20 years, with the brand having been a Main Sponsor of the event since 1999. Frank Rothenberger's expertly designed Rolex Grand Prix course required the world's top horse and rider combinations to exhibit accuracy, athleticism, and courage to conquer the immense challenge presented to them on the famous Aachen Soers showground.
Twelve of the 40 starters jumped clear in the first round, with only five of those achieving the double clear required to progress through to the jump-off. While Deusser was first to achieve a triple clear much to the delight of the 40,000-strong CHIO Aachen crowd, it was Ehning who produced an impressive display of speed and precision to take home the victory.
The highlights film can be seen here:
Virginie Chevailler
Rolex SA
virginie.chevailler@rolex.com
Merrick Haydon
rEvolution
mhaydon@revolutionworld.com