(Last Updated On: September 2, 2023)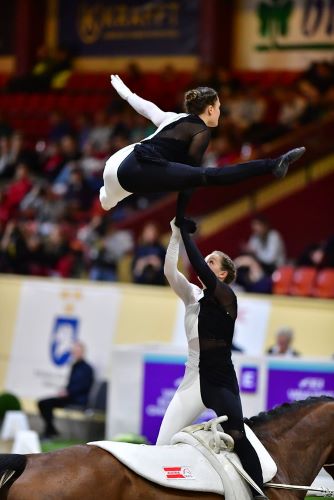 It was a scintillating end to the FEI Vaulting European Championships and the FEI World Championships for Young Vaulters and Juniors as five nations picked up the final medals of the competition. These Championships left fans on the edge of their seats as the audience were treated to an abundance of skills, strength, and top-level performances.
There was no change at the top of the Senior Pas-de-deux scoreboard despite some very close first round scores. Li Laffer and Illona Hannich won the bronze medal for Switzerland – the third for Hannich, making her the first Vaulter to medal in all three divisions at one Championship. Germans Diana Harwardt and Peter Künne finished in second place (8.406) as nerves showed through and a few slips lost valuable points. The Germans were unable to overtake Austrians Eva Nagiller and Romana Hintner, who stayed strong under the pressure of entering the arena last to take the gold medal (8.696) with their artistic concept moving perfectly with the music.
The Italians were unstoppable in the Junior Pas-de-Deux. Giorgia Varisco and Greta Gemignani performed with precision and character, easily winning the World title for Italy for the first time (8.353). Austria's Sarah Victoria Köck and Clara Dick held firm in second place with 7.754, while their teammates Anja Huber and Katharina Feldhofer launched themselves to a third-place finish after a creative display (7.612).
The final event of the FEI Vaulting European Championships was the Official Team competition. Team Germany took home the title with Kathrin Meyer and Jannik Heiland combining with the squad to give Team Norka a top performance (8.719). In spite of an immaculate start from Illona Hannich, Switzerland finished in silver medal position (8.238), as a fall from Danielle Bürgi, due to her horse getting a fright, left the team too far behind. Along with individuals Iben Dines Pederson and Nanna Trab Christensen, the Danish squad played to their strengths and won the bronze medal (8.050).
It was a magnificent finish and a memorable end to the first triple Vaulting Championships, with 11 champions crowned over six days of incredible vaulting sport.
by Joanne Littlejohn