(Last Updated On: September 6, 2023)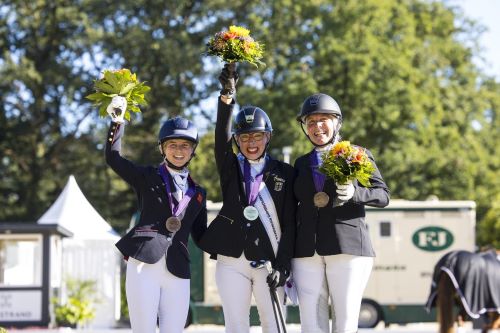 The first day of competition at the FEI Para Dressage European Championship has come to an end, which means the first champions have been found. 
The Individual European championship for grade I, II, and III offered us a thrilling day with lot of championship debutants and first-time medallists claiming podium spots. Many of the established riders in the grade have for different reasons not been present at this European Championship, which has given new riders the chance to flourish and win medals.
At the same time, some of the expected gold medal candidates such as Tobias Thorning Jørgensen and Rihards Snikus rose to the occasion and showed the world why they are the best in their respective grade.
Grade II Individual
The first placements were made as Grade II opened the ball. The gold medal went to the German rider Heidemarie Dresing and Horse24 DooLoop with a score of 74.776%, which put her comfortably in front of British Georgia Wilson on Sakura who finished on 72.966% and thereby reclaimed their silver medal from 2019. Norwegian rider Ann Cathrin Lübbe followed closely in bronze with 72.724%.
Speaking after her gold winning ride, Heidemarie expressed her delight: "I feel very happy. I feel absolutely great. Above all, I am so proud of my horse." Talking about her partnership with DooLoop, Heidemarie explains, "I've only had her since February, and today was the 16th competition I rode with her, and it was my 16th win. She feels really good. I am so proud of the horse. We invested a lot in the preparation, especially for this show, and today, we worked hard and fixed many mistakes."
Grade I Individual
Just like the gold medal winner in Grade II, Rihards Snikus and King of the Dance secured the gold medal despite an error of course, and ended up with a score of 75.250% in Grade I. The silver medal went to German Martina Benzinger on Nautika with 74.833%, just in front of Gabby Blake. It was an emotional moment as championship debutant Blake and her grey gelding Strong Beau took the bronze with a 74.583% score.
Rihard Snikus said after his ride: "I was very shocked that I made an 'error of course' as that has never happened to me before! I think King of the Dance was also a little confused and it took us a few movements to get back into the zone after that, but then we were back and focused and made a strong finish."
Grade III Individual
Grade III was, not surprisingly, won by the decorated Danish duo Tobias Thorning Jørgensen and the lovely mare Jolene Hill, that secured yet another gold medal with 77.767%. The silver medal went to the young shooting star from France Chiara Zenati and her black gelding Swing Royal Ifce with 72.900%. Right behind her in bronze with 72.633% was the home rider and championship debutant Melanie Wienand and Lemony's Loverboy.
After his ride, Tobias said: "It's just amazing every time to perform with Jolene, and it is fun! Even on the days where it is less fun, it just amazing to feel what a friend she is when she comes into the arena." He then explains: "The game plan for this event is to perform but not overperform on the first day, and then build it up over the week. That is a game plan I like because with the amount of experience Jolene has, she is good enough just performing – she doesn't have to overperform to deliver."
Find out more HERE.
by Stinne Tange