(Last Updated On: October 8, 2023)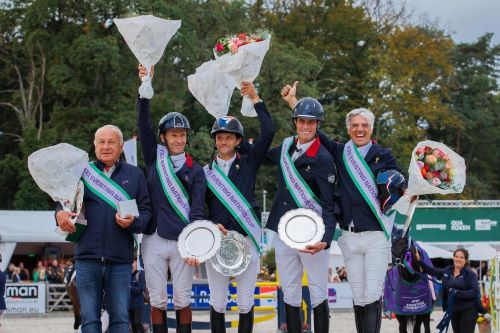 Team France looks to be serious medal contenders at their home Olympics next year after posting their fourth win of the FEI Eventing Nations Cup™ Series this season. Stellar two-phase jumping performances gave the nation a decisive win in the final leg of this Series held at Boekelo (NED) this week. France finished on an overall score of 97.8 ahead of last year's Boekelo winners Great Britain on 111.2. Team Belgium finished third on 129.0 at Boekelo, and were overall leaders of the Nations Cup Series. The Netherlands kept their home crowd entertained, by finishing sixth out of the 12 teams competing.
Once again, Military Boekelo provided a thrilling culmination of top-class sport from beginning to end, attracting some of the world's leading riders to perform in front of record-breaking crowds. There was further excitement for Italy who qualified of the Paris Olympics next year, after finishing in overall third place and therefore eligible as the highest placed nation not already qualified.
French rider Nicolas Touzaint was doubly elated as he won the individual competition as well as playing a substantial part in his nation's victory. He punched the air and whooped with joy after completing a magnificent Jumping clear on the French-bred Diabolo Menthe, a horse he has trained from scratch. Speaking after his cross-country round, he was delighted with his horse's performance: "I have been preparing the horse since he was three years old. The ground was very good, and everything went as planned. I was happy also qualify Diabolo Menthe for the 2024 Olympics as well as my other horse Absolut Gold."
Touzaint was one of a few riders who were using the event to qualify their horses for Paris, and this certainly provided a good test for horses in terms of getting them used to large numbers of spectators to be expected at the Olympics and other major championships. Boekelo is famed for providing a 'party atmosphere' and this year was no different. Record crowds of over 60,000 turned out to watch a masterclass of sporting action at Military Boekelo, which has made a great success of bringing eventing to a wider audience by partnering with big sponsors and brands who deliver ringside corporate entertainment to many thousands of guests, situated around the cross-country. This further adds to the atmosphere of the cross-country course for horse and rider, who are under pressure to keep their focus when jumping fences amidst such large and animated crowds, enjoying the sense of occasion.
French team member Karim Florent Laghouag was equally delighted with his nine-year-old French-bred horse Embrun de Reno, a young age to be competing at this level.
"He has been in our stables since he was four years old, so it is a great achievement. I was so happy with the cross-country, which was enormous, and happy to see he is as fresh today in the jumping as he was yesterday. The two horses I had in the stables here are aimed for Paris. This was the objective for the season and we hope we will go to Paris," he said.
Boekelo has never failed to draw a high calibre of international competitors through the gate, but this year's FEI Nations Cup entry list offered the cream of eventing stars from across the world. The line-up included the Olympic, World, and European Champions, as well as five of the top ten riders in the FEI Eventing World Athlete rankings, and it was an exciting opportunity to see so many riders and horses who may be contenders at next year's Paris Olympics.
The cross-country phase proved no mean feat for the 12 teams who came forward for the CCIO4*-NC-L. Germany fielded a strong team, which included Olympic champion Julia Krajewski, who led after the dressage, but then plummeted down the order to 11th.
Adrian Ditcham was the man responsible for designing the course, which was challenging but highly praised by the riders. "It's really difficult here because you have so many different strands. The golden ticket for the Olympics, lots of young horse competing here as well as the Dutch championships held over a long format, which is unusual as most national championships are over a short format. So, you have to piece it all together to deal with all those and it needs to be of a good standard. I think there are some nations who we may see in Paris. The Brits use the Nations Cup as a testing ground for getting the young horses out and many come for the experience. I think if you want horses to come to the Paris of the Europeans Championships, they need to experience that atmosphere that you get here at Boekelo. You don't get many events like this and it's a great experience for them. It's like Glastonbury for horses with all the tents and people; that makes it a tough course to design here."
The final Eventing Nations Cup standings saw Belgium in first on 680 points, France in second on 480, having won four out of five competitions entered, whilst Italy were just behind on 475 points overall.
by Eleanore Kelly