(Last Updated On: October 15, 2023)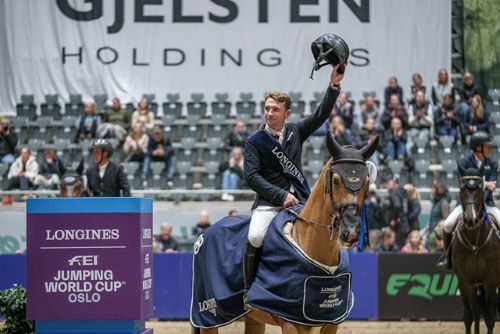 With a spectacular ride against the clock, and from a 40-strong startlist sprinkled with multiple champions, it was Ireland's Richard Howley who reigned supreme with the 12-year-old gelding Consulent de Prelet Z in the first leg of the Longines FEI Jumping World Cup™ 2023/2024 Western European League in Oslo, Norway.
The new season could hardly have gotten off to a better start as the spectators roared with approval while the result was being decided in a 17-way second-round race against the clock.
That wasn't Italian course designer Elio Travagliati's plan; his first-round track had plenty of height to it, but the big number of clears led to a mesmerising deciding round in which Frenchman Simon Delestre took the early lead with Dexter Fontenis Z with a super-fast performance, only to have to settle for runner-up spot behind Howley.
First
It was reigning Longines FEI Jumping World Cup™ champion and longtime world number one, Sweden's Henrik von Eckermann, who was first to take on the jump-off track, but a pole off the oxer fourth-last with the 10-year-old mare Dzara Dorchival left the door wide open.
Next in, Delestre looked to have slammed it firmly closed when galloping through the timers with a fabulous clear from his always speedy 10-year-old gelding Dexter in 34.85 seconds. Although plenty more left all the timber intact, they were nowhere near the Frenchman's target time until, twelfth into the ring, Howley set off with complete conviction.
His 12-year-old gelding was swift, smooth, and responsive every inch of the way, and turning left-handed to the final oxer, the pair was leaving nothing behind them.
"My idea was to stay wider to the second-last and to turn tight and take one stride less to the last. I was never riding for second place, and thankfully it came off!" said Howley, who burst across the finish line in 34.55 seconds, which simply couldn't be bettered.
There were five still left to go and next in, Great Britain's Jack Whitaker slotted into third with Equine America Valmy de la Lande – the brilliant little grey with which he finished fifth at the Longines FEI Jumping World Cup™ 2022 Final in Leipzig (GER).
Breaking the beam in 36.42, the British duo pinned 2009 European champion Kevin Staut and Beau de Laubry Z from France into fourth, while last man in, Ireland's Trevor Breen, clinched fifth place with the stallion Cuick Star Kervec to finish ahead of Swedish brothers and multiple medallists Jens (Diarado's Rose Elith) and Peder (Hansson WL) Fredricson in sixth and seventh, respectively.
On the road
With the maximum 20 points from the Oslo win under his belt, Howley now has the road to the 2024 Longines Final in Riyadh (KSA) next April clearly in his sights. This could well be a game-changer for the man who left County Sligo in the West of Ireland at the age of 17 to make his way in the sport.
In the early years he worked for Jack Whitaker's father, Michael Whitaker, with whom he remains close, and having learned about the business, he set up a successful stable of his own with his wife, Morgan, in Yorkshire, England, where they breed, produce, and develop about 150 horses.
After six big wins in three weeks on the Sunshine Tour in Spain earlier this year, Howley found a real purple patch with continuously strong results, and this win has brought him to another level.
"I've had Consulent for about 18 months and he's jumped numerous clears in the Global Champions and won a 1.60m class in Dublin this year – he's super consistent. My intention has been to get as many good results on the board as possible and to push for the World Cup Final," he explained. His victory will certainly help him along the way.
"I'm over the moon!" Howley said. "My horse jumped unbelievable and it's an incredible feeling. I have my parents here with me for the first show in a long time, so they brought some Irish luck!"
Pleased
Host-nation hero, Geir Gulliksen, produced one of 10 clears in the jump-off and finished ninth with his faithful 17-year-old VDL Groep Quatro, which really pleased the Norwegian crowd.
At the post-competition press conference, he said, "It was a great class for the public to watch! We were against the best in the world and horses with big strides, but my horse has a small stride, so I had no chance to catch the winner. I wanted to stay clear and have a good placement, and we did that," he pointed out.
Show Director, Morten Aasen, was also well satisfied. "We are proud to have all these top riders coming to Oslo. We had seven out of the top ten in the world, and out of the 40 starters today so many could win. It is really special to Jumping and horses that everyone can have a chance to win," he said.
Jump-Off
Richard Howley reflected on the jump-off and what his success means to him. "Simon (Delestre) had a fantastic round; he's obviously in brilliant form; he won the Grand Prix yesterday, and he really threw down the gauntlet today, and I had to try and match him! But Consulent is a fantastic horse. I was just schooling him a bit this week and we were planning on the win, and it came up. This is one of the biggest achievements of my career!
"Growing up watching the indoor World Cup qualifiers on TV, this is what dreams are made of, what you try to achieve in your career, and I'm very, very grateful to be able to do it!"
So how to celebrate the magic of the moment? "Well, it looks like I missed my flight, so we will look for an Irish pub with my Mum and Dad – and Jack (Whitaker) has missed his flight too, so he can join us!"
by Louise Parkes