(Last Updated On: October 24, 2023)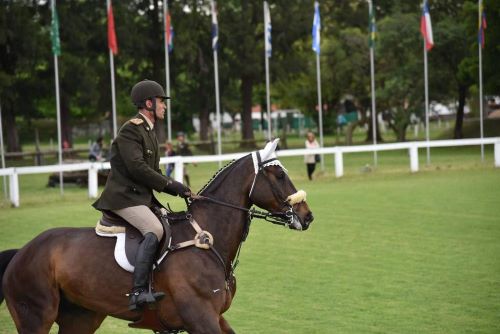 Uruguay's Eventing team is eagerly preparing to compete at the 2023 Pan American Games in Santiago, fresh from their bronze team medal at the South American Games in 2022.
FEI Solidarity, as part of its mandate to promote sports development, has been a crucial partner in enabling Uruguay's athletes to shine on the international stage. This support has allowed the team to train locally, ultimately leading to their qualification for the Pan American Games. The journey has spanned a decade, and it's been steered by the guidance of National Head Coach, Edison Quintana.
Lucia Chieza, President of Uruguay's National Federation, expressed their gratitude for FEI Solidarity's support: "The funding received from FEI Solidarity has been so helpful to organise more events in our country, to help National Officials to become FEI Officials, and also to develop the grassroots levels."
Overcoming challenges
Despite COVID-19 pandemic challenges disrupting their training, the team's dedication remained strong. After securing their Pan Ams spot at the 2022 South American Games, they continued to work: "We ask our riders to compete in pure Jumping and pure Dressage," continues Chieza. "This helps us to be more prepared for international Eventing."
National Head Coach Edison Quintana played a pivotal role in the team's preparation and qualification for the Pan Am Games. Notably, Quintana also contributed as a teammate, alongside Svr Fraile Del Santa Lucia, clinching an individual silver medal in addition to the bronze team honour at the South American Championships.
"We want to complete a good event, and improve results of the past Games," said Quintana. "I am so grateful to FEI Solidarity because we were able to be competitive in the South American championship because we had money to organise events to have this preparation. This would not be possible without the financial aid of FEI Solidarity. Today we are here in Chile, with our flag flying and happy to have the possibility of representing our country."
As Edison embarks on his sixth Pan Am Games, his wealth of experience promises to bolster the team's performance.
Uruguay's finest
Joining the ranks of seasoned campaigners is Federico Gonzalo Daners Bidegain and Demitasse, a combination displaying excellent form in the 2023 season with two consecutive wins at Tacuarembo (CCI3*-S) and Montevideo (CCI3*-L). This husband of Olympic showjumper Gigi Hewitt is determined to improve upon his 2011 results.
National Champion Rufino Emilio Dominguez Midon and bay gelding Svr Edecan De La Luz come as a formidable partnership. Although this will be Dominguez Midon's first experience in a regional event, his impressive track record as the 2022 national Champion suggests a strong performance, aiming for a top-20 finish.
Gastón Marcenal, alongside his 11-year-old mare, SVR Indy, has had a remarkable season, securing second place at Tacuarembo (CCI3*-L) and Rio Branco (CCI3*-L), and clinching bronze as part of the Uruguay team in the most recent South American Championship (2022). Although this might be their first international event, their experience together promises an outstanding performance.
FEI Solidarity support
FEI Solidarity's steadfast support from 2021 to 2023, including the silver team medal in 2022, reflects the remarkable success of their programme. Under the expert management of Quintana, who himself has benefited from FEI Solidarity initiatives taking part in FEI's Education Programme for National Coaches up to Level 3, the team has reached a point of self-sufficiency, showcasing the calibre of the team members, their training, and the unwavering support.
Lucia Chieza shared their ambitions, saying, "With the support of the FEI Solidarity Department, Uruguayan Army, and our National Federation, our riders are extremely happy to represent our country at this important event. We dream of having riders at the Olympic Games. We know it is very difficult, but we hope that the Pan Ams can provide individual quota places for team Uruguay."
FEI Solidarity's focus on sustainable development in equestrian sport has transformed Uruguay's Eventing team into a self-sufficient force. This success story exemplifies the tremendous impact of FEI Solidarity's tailored support in nurturing the four key pillars of National Federation, Athlete, Coach, and Values, from grassroots to the highest level, making a substantial difference on a global scale.
Check the FEI Solidarity Hub here.
You can follow the Pan American Games 2023 on FEI TV and the FEI YouTube channel.
by Rhea Freeman