(Last Updated On: November 3, 2023)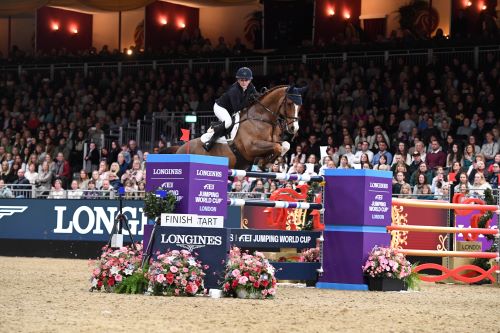 The London International Horse Show 2023, which runs from 13-18 December, has announced details of the final Masterclass in the LeMieux Masterclass Series. 'The Jump Up!' will be hosted by London International Horse Show Ambassador Jodie Hall McAteer on Monday 18 December at 11.30, with a focus on jumping up to that next level of competition – for all stages of riding.
The 2022 Leading Rider of the Show, Jodie is a natural fit to host the Masterclass. Her meteoric rise to the top level of sport had her showing talent from a young age, and enjoying an incredibly successful pony career winning a number of national and international titles – including team gold and individual silver at the Pony European Championships in Sweden in 2015. She finished her career on ponies by winning the 148cm stakes at the London International in 2016 on Tixylix – perhaps her best-known pony partnership.
A move to horses saw Jodie crowned two-time U25 British Champion, and in 2022 the young rider shot into the spotlight at the London International Horse Show with numerous top 10 placings, including third place in the Longines FEI Jumping World Cup™ Qualifier with her longstanding partner Salt n' Peppa. Jodie's incredible performances and consistency across the week resulted in her being named 'Leading Rider of the Show'. Hall McAteer's form has continued into 2023, with 5* victories at CSIO Roma Piazza di Siena and Doha.
Held in the newly introduced New Horizon Plastics London Arena, 'The Jump Up!' Masterclass is Jodie's opportunity to share her huge wealth of knowledge and skill on how to get the best out of your equine partner – and how to successfully bridge the jump up the levels! Using her own experiences from competing internationally, as well as tips learnt from her top-level coaches, Jodie will run down her secrets of success.
The Masterclass will cover plenty of different Show Jumping exercises, building up from a simple cross pole to a short course. The focus of these exercises will be to demonstrate the key variations between different levels and courses, and how to improve the composite parts of a show jumping round – including how to adapt stride lengths, lines into fences, corners and jump-off turns to your advantage, and how riders can work with their own unique riding style to get the best out of their horse or pony. The session will conclude with a chance for spectators to ask Jodie any questions that they may have.
Looking ahead to her appearance at the Show, Jodie said: "I am delighted to hosting 'The Jump Up!' Having jumped internationally on both ponies and horses, I understand the challenges involved in making the next step, and I hope my experiences can help those who attend the Masterclass. The Show is so special to me; having competed here as a child on my ponies, it was so incredible to compete in the 5* classes and take home the 'Leading Rider of the Show' title last year."
Tickets to see Jodie Hall McAteer at the London International Horse Show are available to buy here.
For more information, please contact:
Niki McEwen / rEvolution / nmcewen@revolutionworld.com