(Last Updated On: November 6, 2023)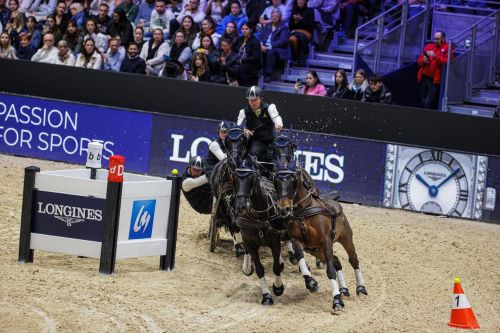 It was a strategic masterclass from reigning champion Boyd Exell (AUS) as the FEI Driving World Cup™ 2023-24 Series got underway in Lyon (FRA).  Throughout the competition, Boyd had such prowess in the large arena at Equita Lyon that even when a ball rolled in his final drive-off, he could stick to his gameplan and still win.
"In the short time that Driving has been here in Lyon, the public have really got behind it. They remembered it from last year and the year before, and even yesterday, I felt the support. They love the smooth driving, and they reward it – and they love speed!" he said.
"I had an early ball when one of the leaders nudged it with his nose, but I turned him short and tight – it's one of those things in indoor driving. Then we really put the accelerator down and I said, 'Come on boys – you need to help me now. I looked after you yesterday so dig deep,' and they were brilliant."
Boyd was talking about his first round early on Saturday morning when he seemed to be taking it easy, his horses moving at a leisurely pace (by his standards). As he passed through the finish gates, the clock tallied and his time was the slowest of the seven competitors at 209.37. But no one watching was fooled by this gentle approach as by the next round, the Australian's customary speed was back. Ending on top of the leader board with a clear round and a time only score of 162.49, Boyd was ahead of second placed Ijsbrand Chardon (NED) by 7.25.
Taking the third slot on day one was Belgian Dries Degrieck. Now in his third FEI Driving World Cup™ season, he is more assured and has honed his performance under Boyd's training. Although he had a costly first round with three balls to add, the board was wiped clean for the drive-off and everyone started from zero, so it was a new competition. With a clear round, Dries finished on his time of 174.31.
Sunday saw the drivers starting in reverse order after the previous day's placings, so French wild card Anthony Horde opened to the delight of the 7,000 strong home crowd. Still finessing his indoor circuit skills, he shaved time off between his rounds, although the balls rolled, and he had twelve to add to give him a total of 202.35.
Next in was seasoned World Cup campaigner Benjamin Aillaud (FRA), also a wild card. He improved on his first day's rounds and produced a smooth clear in a time of 181.78, using the same Lusitano horses that he drives at outdoor events.
Clearly crestfallen after knocking a ball in the marathon obstacle three, Jérôme Voutaz (SUI) didn't make day two's drive-off. Ending on 179.23, he was 0.06 seconds faster than Belgium's Glenn Geerts, but the four to add put him into fifth, although both had ended day one in the middle of the leader board with identical scores (175.53). Watching Glenn's long limbed Dutch Warmbloods – whose strides appear to cover so much ground – against Jerome's compact Swiss horses, can be deceptive as they seem to move so differently over the course, yet were neck and neck on time.
The same top three from day one held their places after the first round on day two, and because only the fastest three went in the drive-off, it was Boyd, Dries, and Ijsbrand who entered the arena for a fourth time. Ijsbrand was first in as they ran in reverse order, but went on to produce his most organised run of the event.
With his stalwart Casper in front, alongside three Lipizzaners, the former World Cup champion kept all the balls in place, and although it wasn't his quickest round, it did secure a second place on the final leaderboard with 168.62.
Next in, Dries was ahead on time by 1.03 seconds, but where he gained against the clock, he lost on accuracy and knocked two balls to add eight and finish on 175.59.
But to be on the podium in such a strong field of contenders so early in the series bodes well for the events to come.
Building to a climax, the rock music pumping, last-to-go Boyd and his slick, dark horses made an entrance. They set out at such speed so that even with the early ball in number three, they had a margin of nearly ten seconds in hand.
Mistakes are often fuel for Boyd, who is at his best when challenged, and if there's a blip, his horses have enough power so that when he asks for more pace, they willingly give it without compromising precision.
So, it's an opening ten points for the reigning champion in Lyon as he heads to the next leg in Maastricht (NED). There won't be the same pressure now that he is firmly on target for another title. He and Bram Chardon (NED) are the wild cards, so although they will go head-to-head, it will be a theoretical clash of the titans as neither will gain points from their places. But they will gain psychological advantages and be watching each other like hawks to see if there are any chinks in the armour.
Yet even if things don't go according to plan, there is so much depth of talent and experience from the whole Exell team, that trying to catch – let alone match – them is going be the biggest challenge for the remaining competitors in this exciting series.
by Sarah Dance