(Last Updated On: January 23, 2023)
An overview of my horses from 1970 to 2009 – Mecca, Sunny, and Rocki.
I married Mark Ellerbee, my son Jason's father, in April 1970 while I was still a student at FSU. We moved to Nashville in the summer of 1970 and Mark got a job with the Oak Ridge Boys as their drummer and backup vocalist.
In 1973, he allowed me to buy, own, and train a horse. We lived in a city north of Nashville, Tennessee, called Hendersonville in a farming subdivision where we all had at least 3 acres.
Mecca
My first son, Jason Alexander Ellerbee, was born at the end of 1970. After I had another son in 1973 (who died in 1988), I bought my own ¾ Arab/¼ Quarter Horse cross, 2½-year-old stallion. He was originally named Major, but I changed it to Mecca. I trained and showed Mecca locally.
I showed my horse and other horses in the Tennessee, Kentucky, and Arkansas show circuit. I rode for clients in Western Pleasure, Equitation, and Hunt Seat. I even placed 11th in the hunt seat class at the Oklahoma 1978 Appaloosa Nationals on a gorgeous black, blanket-spotted Appaloosa stallion that I rode for a client. I also rode another gorgeous Palomino stallion in Western Pleasure and a young 16.2hh Appaloosa gelding in Western Pleasure and Hunt Seat.
Back to Jacksonville
In 1980, Mark and I divorced amicably and I moved back to my home in Jacksonville, Florida. I was without Mecca – I sold him the year before I moved from Nashville since I had gone back to college to finish my degree. In Spring 1983, I finally completed my college degree in Computer Information Systems (CIS). I didn't ride during this time as I was always in class or studying. On top of doing homework assignments in computers, I had a job at the computer lab working part-time at the college as the Psychology department's system analyst, and taking care of my small children when I was home. I was lucky to have my mother take care of them when I wasn't around.
After I graduated and started working in my career, I occasionally rode friends' horses off and on. I married my husband Jerry Rehkopf in 1992. One night, I was ardently explaining to him how a horse canters on their leads. He made the 'mistake' of telling me that I should get a horse 🙂
In 1991, I had a craniotomy for a benign meningioma just below my left ear. I was hoping that the surgery would cure the right-sided migraines I had. Nope, it didn't. I started getting left-sided migraines from the trauma to the surgery on my left side. But get a horse? Whoo hoo! I made it work, migraines be damned.
Sunny
The search began and I finally got another horse, an ex-racehorse Quarter Horse named 'Sunny'. I began riding him in Dressage and later in hunters and jumpers. I bought Sunny from a cowboy that wanted to do trail riding and hunt off a horse. Sunny wasn't the right horse for that. Sunny wasn't the right horse for me either.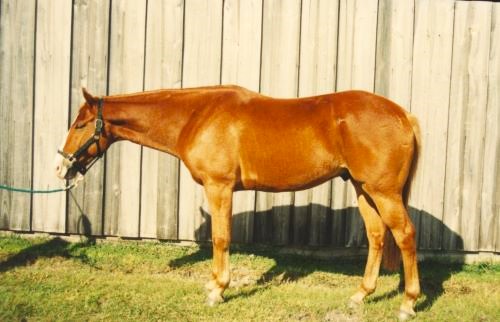 Before Sunny, I had been thrown zero times in my life. I had come off accidentally maybe two times in my life. With Sunny, I came off of him like 20 times in two years! He was what you call "dirty". He would find you off balance and blip, he'd move 20 feet sideways and you're on the ground. Not the best horse for a craniotomy recoveree.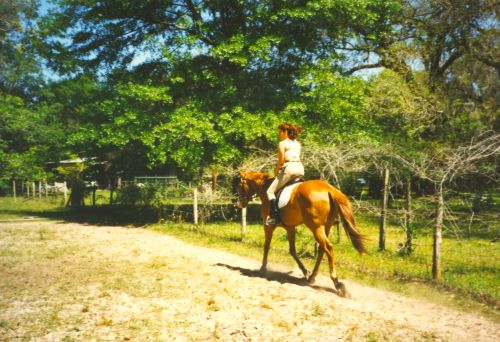 I got 6 cracked ribs from a fall off of Sunny when I missed a tight turn to a jump. This was a perpendicular jump that was higher than I was used to. I looked too late to the next jump, causing me to turn Sunny into the jump standard. He swerved hard and I fell onto the unforgiving, packed sand – ouch!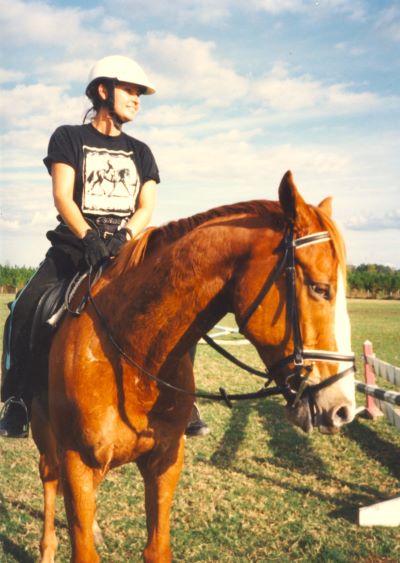 I had to promise my employer that I wouldn't jump anymore, at least not competitively or in a clinic since I had experienced a couple of other falls with associated injuries.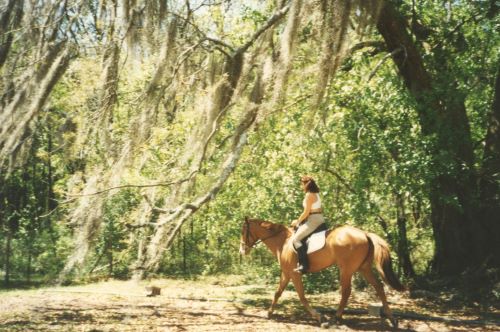 Glenord's Rocket Dancer aka Rocki
I started looking for another horse in early 1995. Tried a few hunter/jumper horses, but fell in love with an untrained "baby" 2½-year-old Clydesdale cross mare named "Baby".
I sold Sunny in 1995 just a couple of months after I got my mare. I named her Glenord's Rocket Dancer, sired by Clan Butter Glenord's Glened x mare, Rocket To Antares. I gave her the barn name of Rocki. Her sire (now deceased) was a champion Budweiser Clydesdale and her dam was a racing TB/Appaloosa, whose bloodline went back to Native Dancer, hence her name, Glenord's Rocket Dancer, barn name of Rocki. (It was originally spelled Rockey and later spelled with an 'i' at the end so it's female sounding, lol.)
Claire Lee of what is now Haddenloch Farm (used to be Dexter Farm) first backed Rocki while I was healing from having the 6 broken ribs from the fall I had off of Sunny.
I got my American Warmblood mare to ride Dressage and English Pleasure. I did jump her in low Hunter classes after she was backed by Claire Lee. I also trained her to ground drive with me running behind her. But again, after the previous falls and injuries from Sunny, it was better that I ride Dressage instead.
Rocki has been the best horse I have ever had. She would do anything and she was bomb-proof even when she was a baby.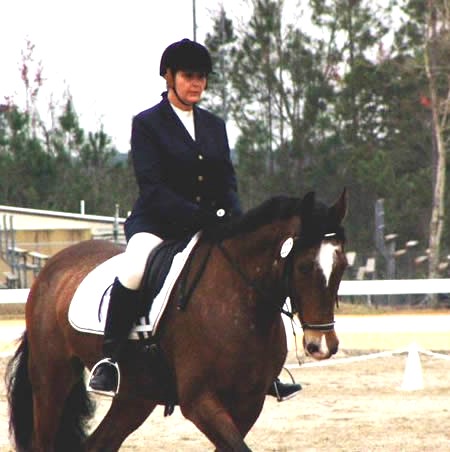 As of 2020, Rocki was still with me (she died in 2021 — see Tribute to Rocki). She still had her Dressage topline, still was a wonderful horse, and was still going strong. Clydesdales mature late – Rocki was actually lazy until she turned 10!
Dressage Aha! Moment
In 2004, I had the 'aha' moment and learned how to ride correctly, as in how to really ride Dressage and give with the arms/elbows, meld with the horse, inside leg to outside rein, half-halts, etc.
Boy, was I excited when I finally felt this for longer than just a few minutes! I called my trainer, Kathy Daly of KDEquine Training, and excitedly told her that I now knew what she had been trying to get across to me since she had trained her in Dressage when Rocki was 3½.
Instead of it taking me 45 minutes to warm myself up while confusing my horse by hanging on the reins and not let him/her go forward INTO the reins, I can get on and have a great ride in 20 minutes, with both my horse and I warmed up almost immediately. Rocki really thanked me — all I had to do is to think a movement and Rocki would comply… ahhhh… as was said, a true horse fanatic!
———————————————————————————————-