(Last Updated On: December 2, 2022)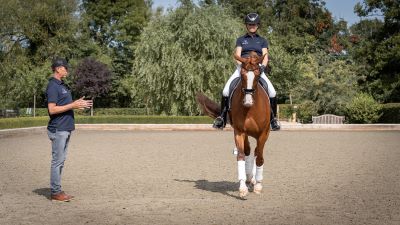 Are you ready to take on the challenge? This is a fun new way of learning and improving your riding.
The Carl Hester Dressage Challenge

Together with Carl, we have made a series of challenges that target specific areas of training to help you squeeze a few more marks out of your dressage tests. Each challenge will focus on a different set of movements, and you will find a few brand new videos with Carl as well as a step by step guide to help you improve the specific movement.
Prize for best improvement
During each challenge we want to see your progress, so we encourage you to share your before and after videos, where the best improvement will win an exciting prize. Each challenge will run for 4 weeks before the next one launches — make sure those notifications are on.
Challenge #1: Halts and Centre Lines
They're in every single dressage test, so why not aim to get a 10? In this first challenge, Carl gives you his tips for getting the perfect centre line and halt. It's live right now so you can head into the app to begin.
In this first challenge, the best improvement will win a brand new LeMieux x Ridely saddle pad, signed by Carl Hester himself. Don't miss out on the chance to improve your test scores AND win a signed saddle pad — everyone's a winner.