(Last Updated On: March 2, 2023)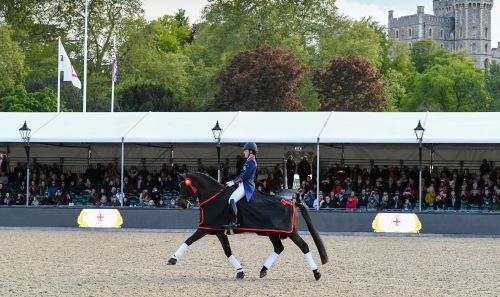 International Dressage is set to return to the private grounds of Windsor Castle, as Royal Windsor Horse Show confirms a CDI4* FEI competition as part of its spectacular line-up of sport and entertainment. Organisers have also confirmed that Defender will continue to be the Principal Partner of the Show and will be sponsoring the International Dressage as part of their sponsorship package.  
The Defender CDI4* FEI Dressage will run over two days – attracting some of the world's top riders. The Grand Prix will take place behind closed doors on Wednesday 10 May, with limited tickets available, whilst the Freestyle to Music is set to be in front of a packed audience on Thursday 11 May. International Dressage was last held at the Show in 2019, when Britain's most decorated female Olympian, Charlotte Dujardin, took the title. This year's horse and rider combinations will be looking to impress selectors ahead of the European Dressage Championships taking place later in the summer. The return of CDI4* Dressage to this iconic venue now means that Royal Windsor Horse Show is the only show in the UK to host international competitions in Show Jumping, Dressage, Driving, and Endurance.
The addition of CDI4* Dressage to the Show will also enhance Britain's Dressage calendar. The All-England Dressage Festival at Hickstead runs just a few days later, hosting CDI3* classes, and the combination of two such prestigious shows in the space of a week should attract the best of both British and European combinations to compete.
Show Director, Simon Brooks-Ward, said: "We are thrilled to be welcoming back both international Dressage and Defender to Royal Windsor Horse Show. Our Dressage classes are a highlight of the Show for many of our spectators, and it offers the chance for the British public to see some of the most talented Dressage combinations. The support from Defender, which has spanned over three decades, is an amazing partnership and one which we are incredibly grateful for."
Richard Davidson, who was part of the British Dressage team to win a silver medal at the 2022 World Championships, stated: "The return of CDI4* Dressage to Royal Windsor Horse is very exciting. The Show has a unique atmosphere; being able to ride in the private grounds of Windsor Castle is such a special experience. The Dressage here is always of an extremely high standard and it is hoped that some top European combinations will be competing."
To find out more about Royal Windsor Horse Show, or to book tickets, visit www.rwhs.co.uk.
For more information, please contact:
Niki McEwen / rEvolution / nmcewen@revolutionworld.com