(Last Updated On: March 5, 2023)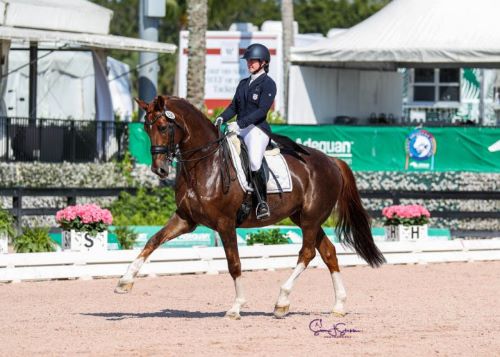 A personal best of 70.66% on her own Katholt's Bossco catapulted 26-year-old Codi Harrison (USA) to the top of the leaderboard in the Mission Control Grand Prix Special CDI3* in Week 8 of the Adequan® Global Dressage Festival (AGDF) in Wellington, FL.
Of the 13 starters, it was fellow American rider Katie Duerrhammer who snuck in just behind Harrison with a 70.213% on Kylee Lourie's 12-year-old gelding Paxton, by Dante Weltino, with 70.213%. Third-placed Morgan Barbançon also put down a plus-70% score, finishing with 70.17% on her own 11-year-old Habana Libre A, by Zizi Top.
Harrison, who has brought Katholt's Bossco, by Don Schufro, up the levels from Young Riders, said, "I was a bit nervous because it was really hot and he's not a horse that thrives in that, but he stayed with me the whole ride and I went in feeling like he was through and he wanted to work."
Lars Ligus Tops Intermediate I CDI1*
Of the 17 riders forward in the Intermediate I CDI1*, sponsored by Blukota Spirits, it was Germany's Lars Ligus whose 73.441% personal best on Baron Bollwerk that proved impossible to catch. Christian Simonson (USA) filled second on the 13-year-old Fürstenball gelding Zeaball Diawind with a 71% test, while fellow American Ali Potasky captured the yellow ribbon with a 70.323% test on the 10-year-old Everdale mare Irintha.
Ligus scored many eights on the board en route to victory on Silke Abbelen-Mooren's 12-year-old Bordeaux gelding. This is the pair's first CDI season together and they were the reserve combination for Germany's Nations Cup team last month.
For more information and results, visit www.globaldressagefestival.com.