(Last Updated On: March 5, 2023)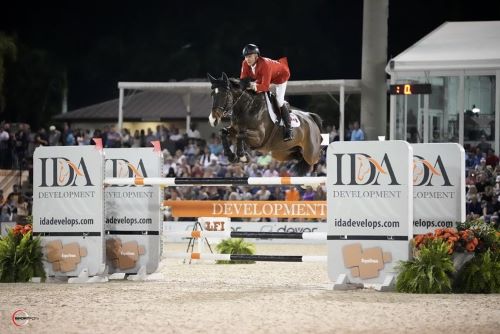 Despite being on U.S. soil, Wellington International was brimming with Canadian pride on Saturday evening as the Canadian Show Jumping Team gave a dominating performance in the $150,000 CSIO4* Nations Cup, presented by IDA Development. Team members Erynn Ballard, Mario Deslauriers, Tiffany Foster, and Beth Underhill were led by 10-time Canadian Olympian Ian Millar in his debut as chef d'équipe.
In the 22-year history of the Nations Cup at the Winter Equestrian Festival (WEF), Canada has stood atop the podium six times, making Saturday evening's performance lucky number seven.
Eleven teams, including Argentina, Australia, Belgium, Brazil, Canada, Chile, Great Britain, Ireland, Mexico, the United States, and Venezuela, competed in the opening round earlier in the day, and the top eight returned for round two during 'Saturday Night Lights.' At the start of the second round, Brazil, Canada, and Ireland were tied on eight faults apiece over a course designed by Anthony D'Ambrosio (USA).
"My plan was to try and jump another clear and lock it up," said Deslauriers, who guided Emerson through the mount's first Nations Cup experience. "He's jumped some bigger tracks at Spruce [Meadows] on the field so he was very capable. I had high expectations so it's a huge relief. I must thank my teammates and our chef d'équipe for a great night. Everybody rode well and it was a great win for us."
Wellington International
news@wellingtoninternational.com
www.wellingtoninternational.com