(Last Updated On: March 9, 2023)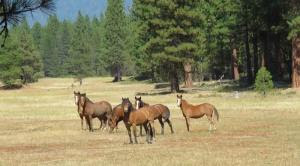 YREKA, CA, US, March 6, 2023 /EINPresswire.com/ — North American wild horses evolved on the North American continent about 1.8 million years ago. Recent scientific research shows that the populations of North American wild horses did decline significantly around the time of the last Ice Age; however, they did not go extinct. In fact, we now know that many splinter populations of American wild horses survived the Ice Age and continued to exist on the continent prior to the initial arrival of Columbus in 1492.

Moreover, we now have ample paleontological and cultural archeology that provides strong evidence of wild horses living among indigenous American peoples well before the Pueblo Revolt of 1680, which has been argued as the event that released Spanish horses onto the landscape, resulting in the spread of re-introduced horses into America.

Over 100 years before the Pueblo Revolt, and just 90 years after Columbus first arrived, Sir Francis Drake explored the western coastline of the United States. And in the area of what is today the California/Oregon border, Drake observed and documented indigenous peoples living among herds of wild horses in the year 1580.

This PBS video arguably ends the debate about the Native Species status of American Wild Horses: https://www.youtube.com/watch?v=HGki2EwrbkA.

As you watch the evidence presented, keep in mind that the California based all volunteer 501c3 nonprofit public benefit corporation 'Wild Horse Fire Brigade' is researching a herd of horses that was documented by the British explorer Sir Francis Drake in the year 1580, 100 years before the Pueblo Revolt.

In this PBS production, several scientists weigh in against the misinformation that has largely been spread by the Bureau of Land Management over decades, falsely claiming that wild horses are 'not native'. The BLM is also documented as falsely claiming that wild horses have 'no natural predators', which is another proven myth.

How can anyone logically or cost-effectively manage any wildlife, let alone a treasured species like our American Wild Horses, based upon myths?

Watch this PBS video and learn the truth from a team of scientists.
This press release can be viewed in its entirety online at: https://www.einpresswire.com/article/620446849/.
Please visit www.wildhorsefirebrigade.org for more information.