(Last Updated On: March 17, 2023)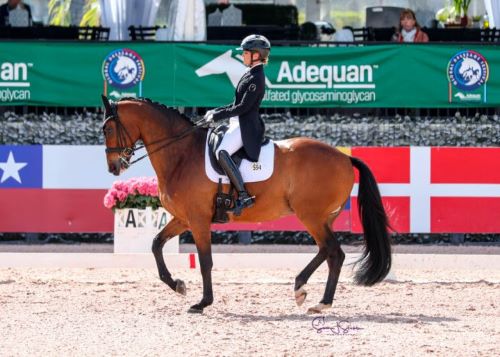 Week 10 of the Adequan® Global Dressage Festival (AGDF) is well underway in Wellington, FL, with the second day of competition welcoming a robust line-up of twenty horse-and-rider combinations into the Stadium at Equestrian Village to contest the Fair Sky Farm Grand Prix CDI3* for Special. France's Morgan Barbançon brought victory home on her own Bolero.
Barbançon and the 17-year-old KWPN gelding (Glock's Johnson TN x Vincent) rode to a score of 71.152%, the only pair to touch 70% in the class, and the last combination to go.
"Today, the piaffe was really good," said the French Olympian. "The pirouettes, too. Everything was good today; the two tempis could have been straighter, but everything else was solid and he put in a solid test. I'm so proud of him. He carried me through that test today. I was really not mentally on my game based on my other rides I've had this week, so I'm super proud of him."
Barbançon and Bolero are no strangers to the international ring together, marking over 50 CDI starts despite an injury that sidelined the gelding for two years. "Bolero had a long-time injury," Barbançon explained. "But he is back in shape now and feeling great, and he proved that again today. He's a very solid, consistent horse. I know that he's not always a high scorer, but he is always there to do his job and is very consistent. He gives me the mileage and show experience which is really important."
In the Donato Farms Prix St. Georges CDI1*, Kevin Kohmann (USA) and Equitas LLC's 13-year-old KWPN stallion (Amazing Star x Jazz) Five Star came to shine, besting the class of 31 with a score of 73.284%.
"I think some highlights today were my trot work," said Kohmann. "There were highlights in the canter, and the extended canter – that's always a highlight with this horse – I've gotten 10s on that movement before with him. All the extensions he loves, anything really forward. The walk is amazing on the horse; normally his extended walk and extended canter is the highlight with him.
"The horse was simply amazing," continued Kohmann. "He really helps me in the ring all the time, which is so nice."
Out of 25 international starts together, the pair has had 15 wins, and Kohmann has goals to make a Pan Am team with the horse this year. "We have not been riding Prix St. Georges/I1 for a long time at this point," he explained. "We have been showing nationally at Grand Prix, but it is not quite right in the big ring yet, and in going back to small tour, we might have a chance to qualify for Pan Am Games. After the CDIs, we will just see where he's at and evaluate, but he's basically ready for it."
For more information and results, visit www.globaldressagefestival.com.