(Last Updated On: March 18, 2023)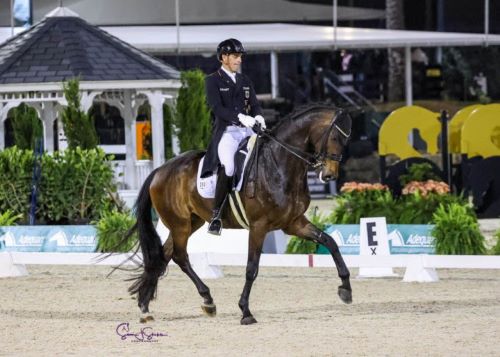 The International Arena at Wellington International — permanent home of show jumping's Winter Equestrian Festival (WEF) — hosted the CaptiveOne Advisors CDI5* Grand Prix Freestyle and the CDI5* Grand Prix Special, sponsored by Wellington Equestrian Realty, on Friday, March 17. This show during week 10 marks a change of venue for the five-star classes at the 2023 Adequan® Global Dressage Festival (AGDF) in Wellington, FL, which operates out of the nearby Equestrian Village.
Frederic Wandres is no stranger to the winner's circle and he and the phenomenally talented Bluetooth OLD chalked up 82.31% as the penultimate combination in the class to ensure the German anthem rang out again. All five judges had the pair to win, and all awarded over 80%. Two American female athletes filled the remaining steps of the podium, with Sarah Tubman securing second — and ticking an item off her bucket list — with a 77.58% ride on Summit Farm's 13-year-old Vivaldi stallion, First Apple. Ashley Holzer scooped third place, riding her own 13-year-old Sir Donnerhall mare, Valentine, to 76.295%.
Wandres did not shy away from a high degree of difficulty, riding 19 one-time changes on a curving line to a new 80s music compilation. Bluetooth looked confident and secure in the piaffe fans and the passage half-passes, which are both optional elements of a freestyle, but add to the degree of difficulty — and therefore risk — that a rider chooses to take. It paid off for the duo, whose balanced test was also bursting with power. This is their sixth consecutive victory at this year's AGDF and their highest score of the season.
"Six out of six is really amazing," said a delighted Wandres, who rides for Bluetooth's owner, Hof Kasselmann. "It shows that the horse and I have improved a lot. We started already high, and it's not so easy over three months to keep the level that high — you have to keep the horses happy and sound — and they're not used to the heat."
Barbançon Plays It Smart
In the Wellington Equestrian Realty CDI5* Grand Prix Special, Morgan Barbançon credited her victory to a tactical ride and an SOS call to her trainer in England, Gareth Hughes. Barbançon — who formerly rode for Spain before switching nationalities to represent France — returned to winning ways with Habana Libre A after a sub-par performance in the qualifying Grand Prix, where they finished third.
The penultimate competitor in the class — which was also held at Wellington International under a stunning dusk sky — 30-year-old Barbançon put 72% on the board. She edged out Germany's rising star, the 22-year-old Felicitas Hendricks, and her own 12-year-old Destano gelding Drombusch 2 (71.532%). The winner of the qualifying Grand Prix, Pablo Gómez Molina (ESP), finished just behind, claiming third with 71.043% on Javier Bacariza, Cristina Danguillecourt, and the breeder Yeguada de Ymas's 13-year-old PRE gelding Ulises De Ymas.
"Wednesday was a new arena and Habana's first time under the lights, so I had to push a bit too much and that's when I get mistakes," she explained of the 11-year-old gelding by Zizi Top, who was the youngest horse in the class. "Today I decided to ride a very conservative test because if we are fault free then he automatically gets between a seven and an eight."
For more information and results, visit www.globaldressagefestival.com.