(Last Updated On: March 25, 2023)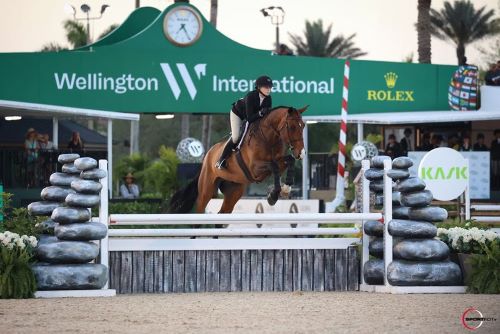 The future of U.S. show jumping took to the International Arena at Wellington International on Friday evening for the coveted WEF Equitation Championship, presented by NetJets. As the Winter Equestrian Festival (WEF) gears up for its final week kicking off on March 29, all eyes were on junior riders as 43 qualified rising stars took to the big ring.
The podium was dominated by riders based in the western U.S. with Carlee McCutcheon, 17, of Aubrey, TX taking the victory by posting consistent scores in the 90s. Eleanor Rudnicki, 17, of The Woodlands, TX was second, and Jordan Gibbs, 16, of Colorado Springs, CO rounded out the top three.
McCutcheon trains with Max Amaya and T. J. O'Mara at Stonehenge Stables and her grandmother Carlee McCutcheon. "Winning this class doesn't feel real yet. I would like to thank T. J. who puts in so much work to make these horses perfect for us and everything he does for us, and Max Amaya, and the whole team at Stonehenge. And to thank my grandparents and parents for pushing me and believing in me enough to make this all come true."
Andy Christiansen (USA) designed the equitation track, which featured a first round that included an S-line question and varying fence challenges such as a split rail option. The top 12 were called back in reverse order for a second round, which had additional challenges, including a simple change of lead. Four riders returned – without stirrups – for further testing: Gibbs, McCutcheon, Rudnicki, and Tessa Downey. After the three rounds, McCutcheon was crowned winner from two judging panels made up of Archie Cox, Abby Blankenship, Tammy Provost, and Lillie Keenan.
The unique format of the WEF Equestrian Championship removes trainers and all outside help from the equation. Riders must walk the course, make their plan, and warm up without the assistance of a trainer. Riders hand in their cell phones at the start and can only be assisted by one groom in the schooling area.
Diane Landreville and Dan Reed observed the warm-up for the first two rounds and awarded riders a score ranging from minus two to plus two points based on their time management, horsemanship, and effectiveness in the schooling area. Those point were either added or subtracted from their overall score.
Hunters Take to the Derby Field
Hunter riders returned to their roots on the grass derby field at Equestrian Village on Friday for $5,000 USHJA National Hunter Derby offerings for junior and amateur riders and a $10,000 USHJA National Hunter Derby for professionals. Each class was conducted in a hunt & go format and were presented by Marshall & Sterling/Great American. Junior Emi Richard aboard Carry On and Amateur Kelly Sims on Private I claimed blues on the grass in their respective events.
The hunt and go format consolidates two rounds into one with both a classic and a handy section. Two panels of judges come up with each pairs combined score over a course with several high options and the opportunity to show some rollbacks and inside turns demonstrating the horse's handiness around the second half of the course.
Wellington International
news@wellingtoninternational.com
www.wellingtoninternational.com