(Last Updated On: March 25, 2023)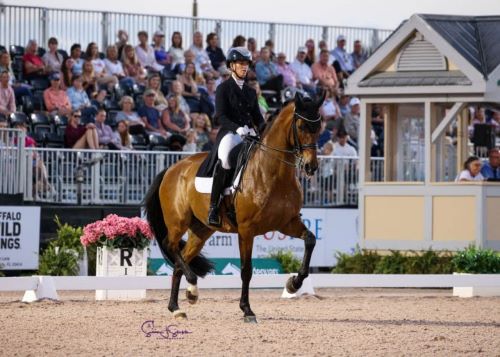 The final Friday Night Stars freestyle under lights of the 2023 Adequan® Global Dressage Festival (AGDF) — the Douglas Elliman Real Estate CDI4* Grand Prix Freestyle — was a rainbow podium of flags.
France's Morgan Barbançon rode her own 17-year-old Bolero to the top of the scoreboard with an assured 76.4% test to a medley of French music. In the culmination of a spectacular first Wellington season for the Switzerland-based rider, she edged out Sweden's seven-time Olympian Tinne Vilhelmson-Silfvén, who had to settle for the runner-up spot on Devanto. Dong Seon Kim (KOR) rounded out the podium, scooping third place on his new ride, Galleria's Bohemian (73.215%).
This was the second time in two days that the French national anthem rang out for the 30-year-old Barbançon, as she won the qualifying grand prix on Habana Libre A, who contests the Grand Prix Special CDI4* on Saturday.
"I was super happy especially as this is my last show here this year, so this win tonight under the lights made it the cherry on the cake," said Barbançon, who used to ride for Spain before switching nationalities.
At 17 years old, Bolero was the oldest horse in the field — yet the liveliest in the awards ceremony. When asked how she keeps the son of Glock's Johnson feeling so fresh, Barbançon replied, "I guess it's that the training and the management of how we work him during the week and at shows has been working well. He's done maybe seven shows here and he's just as fresh as the first week, so that makes me really happy. He's done a lot for his age, so he will have a well-deserved holiday once he gets home."
For more information and results, visit www.globaldressagefestival.com.