(Last Updated On: March 28, 2023)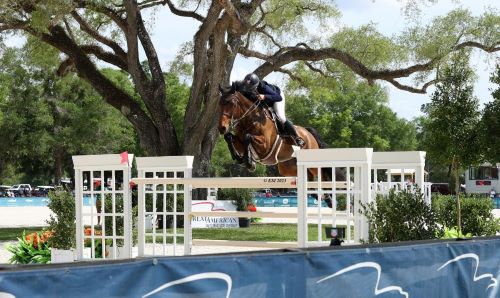 Crowds filled the stands at the HITS Ocala Grand Prix Ring on Sunday afternoon to watch the world's top athletes compete in the Great American $300,000 Grand Prix. The day concluded with a thrilling five-horse jump-off featuring athletes representing four countries. In the end, it was Lisa Goldman-Smolen (USA) and Ivaro N who produced the only double clear effort of the day, claiming one of the biggest wins of her career.
Scott Keach (AUS) and Noble De La Chapelle earned the second-place prize with the fastest 4-fault jump-off, while Aaron Vale (USA) and Obi Wan placed third as the day's pathfinders.
"I'm still on cloud nine; I still can't believe it – I've used up all my luck for the year," said Goldman-Smolen after her win. "I've been knocking on the door a long time in these bigger classes. I am so proud of my horse – he gave every ounce of effort."
Juliet Johansson & TH Magic Top $25,000 Peterson Smith M&S High Child/Adult Jumper Classic
The 2023 High Child/Adult Jumper division concluded on Saturday, with riders gathering at the Grand Prix Ring for the division's final and largest event of the season, the $25,000 Peterson Smith M&S High Child/Adult Jumper Classic. The field of over 40 starters was narrowed down to 13 for the jump-off, where one of the last to return proved to be the best of the day. Juliet Johansson dashed to victory with TH Magic, beating fellow riders Caroline Bridgeman with Compis and Alissa Kinsey with Good Lux Lucy, who placed second and third, respectively.
"It feels too good to be true," expressed Johansson after her win. "It's my first show ever in Ocala. We came up specifically to do this class. I was like, 'Oh, that looks like fun. Let's go try it!' That's why I'm here and I can't believe we did it!"
For more results and information, visit HitsShows.com.