(Last Updated On: April 29, 2023)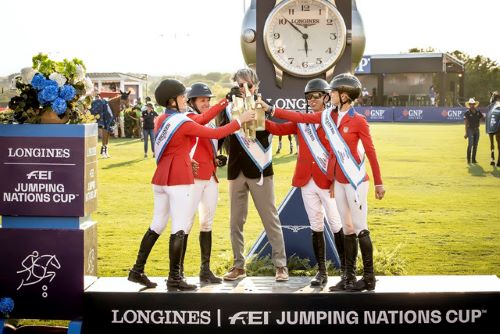 As the second round of the Longines FEI Jumping Nations Cup™ of Mexico wound down, a large amount of pressure was mounted on Laura Kraut's (USA) shoulders. If Kraut, last to go, produced a clear round, the United States would jump off for victory against defending champions, Mexico.
Kraut would not only produce that critical clear effort aboard her championship partner Baloutinue, but she would also go on to secure the victory for her team in a two-horse jump-off with Mexico's Eugenio Garza Perez. She shared victory with Kent Farrington (Landon), Jessica Springsteen (Don Juan van de Donkhoeve), and Bliss Heers (Antidote de Mars).
Kraut and Baloutinue, a 13-year-old Hanoverian gelding, produced the only double-clear over Benjamin Fernandez's (MEX) 1.60m track. In the jump-off, they were clear again, with a winning time of 39.43 seconds. Garza secured second for Mexico aboard Contago with a jump-off time of 42.13 seconds. Both teams finished the second round on total scores of 8 faults. Canada was third with 20 faults.
"When Laura went in for the second round, I said, 'We need two clear rounds out of you, starting now!' That wasn't counting her first one. We had already made that decision [that she would jump off if she was clear]," said Chef d'Equipe Robert Ridland.
After the U.S. failed to qualify for the 2022 Longines FEI Jumping Nations Cup™ Finals, Ridland entered the 2023 season with an aggressive strategy. He brought forward four of the country's best combinations to Mexico with an eye toward getting the better of the home nation, who had won four of the last five editions of the event on home soil.
"This planning really happened at the beginning of the year. We knew what was ahead of us, long-range, to qualify for the [2024] Olympics in Paris, and this was a huge step to get there," Ridland said. "We needed to bring experience. We have some young riders in the mix as well, but we had to bring our 'A' team."
Three of the U.S.'s four team members are Olympic medalists, and each of those athletes — Kraut, Farrington, and Springsteen — delivered at least one clear round on the day. After the first round, the Americans led on a score of 4 faults, but rails from Springsteen and Heers in Round 2 — and clear efforts from Garza Perez, Nicolas Pizarro (Pia Contra), and Manuel Gonzalez Dufrane (Hortensia van de Leeuwerk) — leveled the playing field.
In the jump-off, it was footspeed that proved to be the greatest difference-maker.
"We watched Eugenio go, and as I was walking in the ring, Kent said, 'Your normal speed will be quick enough,'" Kraut said. "So when I started, I went maybe a touch quicker than my normal speed.
"I couldn't be happier with him. He's probably a horse of a lifetime," she added. "That's a big statement, because I've had some incredible horses."
The United States takes an early lead in the North and Central America and Caribbean division of the Longines FEI Jumping Nations Cup™ with 100 points. Mexico sits second with 90 points, and Canada is third with 80 points. The division continues on 14 May 2023 in San Juan Capistrano (USA).
By Catie Staszak