(Last Updated On: May 7, 2023)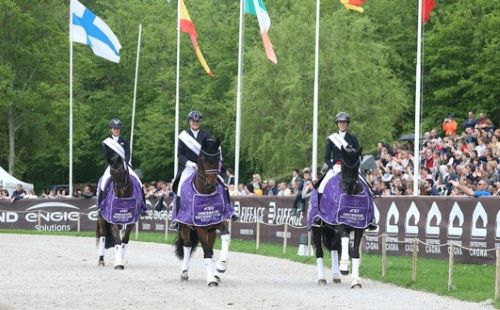 Carina Cassøe Krüth could not be beaten in Compiègne (FRA), leading Denmark to victory in the nation's first outing of the 2023 FEI Dressage Nations Cup™ season.
Under the tutelage of Chef d'Equipe Anne-Mette Binder, the three-rider Danish squad of Krüth (Heiline's Danciera), Anna Kasprzak (Addict de Massa), and Lone Bang Zindroff (Thranegaardens Rostov) did not finish outside the top 12 across the CDIO5* Grand Prix, CDIO5* Grand Prix Special, and CDIO5* Grand Prix Freestyle tests to record comfortable victory in the second leg of the six-event Nations Cup series. The group finished with just 36 points.
The Netherlands finished second with 41 points, while Germany — who took an opening leg victory in Wellington (USA) in February — finished third with 45 points. In this Nations Cup format, athletes received points equivalent to their finish position in each test. Those points were totaled for a final team score, with the lowest cumulative score taking top honors. Athletes completed two tests each; all athletes contested the Grand Prix before splitting across the Special and Freestyle.
"Even though there were mistakes, they kept their calm and kept their cool. This is what we tried to achieve with our little team — that it's okay to make mistakes, so that you feel comfortable in trying to find a solution and solve the problems if you're in them," said Binder.
Denmark's team was one of balance. A most experienced combination of Krüth and the 12-year-old Danish Warmblood mare Heiline's Danciera was part of Denmark's gold medal-winning squad at the FEI World Championships in Herning (DEN) in August, while Kasprzak and Zindroff brought forward mounts that were less experienced at the level.
Krüth and her veteran partner certainly delivered, taking top honors in both the Grand Prix (78.674%) and Grand Prix Special (76.107%), despite some mistakes in the latter test.
"Yesterday [the Grand Prix] was mistake-free. There was a little bit here and there with details. I can do better, but the feeling was amazing," Krüth detailed. "Today [in the Grand Prix Special], I think the feeling was even better than yesterday, but then I had some very big mistakes… That's how it is with horses. We all make mistakes sometimes, but the feeling was even better today."
Krüth and Heiline's Danciera have been partnered since the mare was just a 4-year-old, and the horse has had no other rider. In addition to their gold medal performance in Herning, they have also represented Denmark in the Tokyo Olympic Games (JPN) and 2022 FEI Dressage World Cup™ Final (GER).
"We've been doing Grand Prix since [Heiline's Danciera] was eight. She's 12, and there's still a lot to do. Even though you're 12, you can still improve. That's what's so amazing, and that's why I'm still so much in love with the sport, because you can keep working on little details and major things," said Krüth.
Kasprzak and Addict de Massa were consistent throughout the weekend, finishing 10th in the Grand Prix and ninth in the Special. After finishing 11th in the Grand Prix, Zindroff and Thranegaardens Rostov finished fourth in the Freestyle. Both riders were pleased with the development of their horses.
"I could get used to this! [This team knows] each other very well, so it's been fun," Zindroff said. "I felt a little bit of pressure today, because I was the last rider. But it's great fun that we cheer each other and support each other."
Germany has taken over the series lead with 21 points, ahead of Sweden (16 points) and Denmark (15). The FEI Dressage Nations Cup™ continues at Budapest (HUN), 7-11 June 2023.
By Catie Staszak