(Last Updated On: May 15, 2023)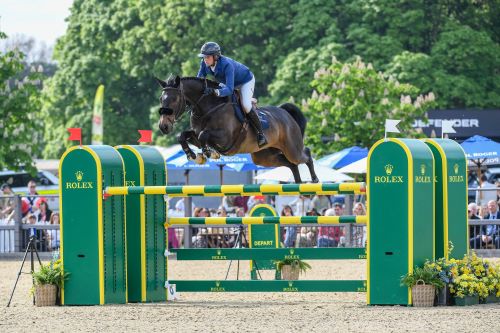 Royal Windsor Horse Show drew to a close after an incredible five days of top class equestrian action. The pinnacle Jumping competition of the Show, the CSI5* Rolex Grand Prix, was won by Switzerland's Martin Fuchs. Elsewhere, Belgium's Gregory Wathelet was victorious in the morning's CSI5* Manama Rose Show Stakes. It was also a day for the country's best up-and-coming talent, with Antonia Platt bringing home The Defender Under 25 Jumping title, England taking first place in the DAKS Pony Club Mounted Games Final, and Zara Nicholls, daughter of champion National Hunt trainer Paul Nicholls, victorious in The Defender Shetland Pony Grand National Final.
The Jumping highlight of the Show came from the Rolex Grand Prix. Bathed in the glorious afternoon sunshine, Windsor Castle proved a fitting backdrop for this prestigious class. With the world's best riders gathered, and a truly international field representing 12 different countries, the competition was set to be fierce.
It was none other than show jumping legend John Whitaker who was first to tackle the technical and up-to-height track set by Portuguese course designer Bernardo Costa Cabral, but he unfortunately could not quite pull off the result that both he and the crowd had hoped for. Second into the ring, Bertram Allen set the standard for the rest of the field and, just a few horses later, France's Kevin Staut with Dialou Blue PS ensured that there would be a jump-off. Clear rounds came throughout the class, with a total of four clears before the mid-way break.
Britain's Scott Brash and Joseph Stockdale were some of the unlucky riders who finished on four faults. However, Greece's only representative — and Royal Windsor Horse Show first-timer — Ioli Mytilineou joined the exclusive group proceeding into the jump-off, as did winners of the 2021 Rolex Grand Prix at the Show, Ben Maher and Explosion W, and former World No. 1 Martin Fuchs, who was third behind Maher that day.
In total, nine combinations made it through to the jump-off, providing top-class entertainment for the packed-out crowds. Ireland's Bertram Allen, with his top horse Pacino Amiro, was first into the Castle Arena. The partnership, who have had huge successes in Wellington, Florida earlier this year, produced a faultless round in the time of 34.50 seconds. Five combinations in total jumped clear, but it was the battle between Ben Maher and Martin Fuchs that truly set the crowds alight. Having just come back from injury, Maher, with his Olympic gold-medal winning gelding, looked to be unbeatable, but Fuchs' spectacular turn to the penultimate fence helped him clinch the victory by 0.40 seconds.
A delighted Fuchs said: "Connor Jei was fantastic today. He's back after quite a long break since Geneva as he did a lot of shows last year, so we gave him the indoor season off. To be honest he wasn't so easy at the last show I took him to, so I wanted some advice on what I should be doing differently and how I could help the horse to be at his best again, so I called my uncle – Markus Fuchs – and he has been riding him three times a week, so I'm very lucky to have him to help."
Fuchs continued: "The Rolex Grand Prix always has the best horse and rider combinations, so it's an honour to be competing, and then to be winning and to be standing on top of the podium at such a prestigious Rolex Grand Prix makes me very proud."
On his round, he said: "I knew who I needed to watch, and Bertram and Ben were the two rounds I watched. Bertram had a hard draw – to go first in the jump-off is never easy, but he did everything very well. Then I watched Ben and saw where he left out the strides compared to Bertram, and just tried to do the same round as that, just hoping to be a bit quicker. I think I made up a little bit of time to the second last – I knew that I wanted to do seven strides to the turn, which is what Ben did. I actually didn't turn as hard as him, so I really had to push hard for those seven strides and I think that's what made it quicker in the end."
Maher, at only his second show since breaking his shoulder, said: "I'm very happy. Explosion jumped incredible; he's been out for eight or nine months; he just did two small classes last week so to come here this week and show his experience and perform in a Rolex Grand Prix like that — I'm very proud of my team bringing him back. I did what I had to do in the jump-off. I took a lot of risks and nine times out of ten that might have been enough, but it's never over when you've got Martin after you. I don't think I could have done any more; on the day he was the better rider and I had to settle for second."
Allen added: "I was first to go in the jump-off and with the line-up we have here, it was always going to be very difficult. I gave it a good go and I'm very happy with my horse."
Earlier in the day, The CSI5* Manama Rose Show Stakes, a single round against the clock, took centre stage in the Castle Arena. Gregory Wathelet opened the class, riding the fourteen-year-old Clarity. Despite being first in, the combination took a stride out down to the last water tray fence, securing a clear round in a time which proved unbeatable throughout the competition. In doing so, he added another win to his impressive resumé, which includes a bronze medal at the Tokyo Olympics and 36 Grand Prix wins.
The course produced only eight clears – with many of the best, including the likes of former World No. 1, Daniel Deusser, picking up four faults. The only two Brits to finish with a clean sheet were William Funnell and Jack Whitaker. Whitaker was incredibly close to sealing the win with a dazzling round, but just missed the mark by just 0.04 seconds to finish second.
Of his win, Wathelet said: "I was first to go and knew I didn't have the fastest horse out there, so I had to take a big risk and take some strides out, and it worked! I won the Rolex Grand Prix here last year, so for me the Royal Windsor Horse Show has always been a great show, in a fantastic place with an amazing crowd."
Royal Windsor Horse Show Ambassador, Whitaker, said: "There's always a great atmosphere here at Royal Windsor, with the crowd giving you such a big cheer when you canter into that arena! Gregory took us all by surprise, but I stuck to my plan, cut corners, and maybe if I had chased that bit harder to the last, I would have won!"
Britain's most promising up-and-coming Show Jumpers took to the Castle Arena early this morning for The Defender Under 25 Jumping Competition, which took place over two rounds, with all clears from the first round proceeding into the jump-off.
A total of 33 combinations tackled the first round, which caused faults throughout. However, stylish clear rounds did come from a few riders, including last year's victor Sienna Charles, riding Stardust, a horse her older brother Harry has ridden to success on multiple occasions, including in the FEI Jumping World Cup™ Qualifier at the London International Horse Show in 2021. Her sister, Scarlett, ensured that both of the Charleses made it through to the jump-off with a classy clear round aboard the 10-year-old gelding I. am Jordan. Only four other riders could match the rounds produced by the Charles sisters, including the 2021 FEI Junior European individual gold and team bronze medallists, Ava Vernon and Jolie Fleur Van De Noordheuvel.
Six riders made it through to the jump-off over a shortened course of six fences, coming in the same order that they jumped in in the first round. It was therefore Stardust and Sienna Charles who were first to canter into the arena. The combination rode an efficient and tight round to come home clear in a time of 32.48 seconds and set the pace for the following riders. The lead changed hands a few times in this hotly contested jump-off, but it was Antonia Platt who took the lead with one left to jump. Ben Clarke, with Barika Van De Helle, a horse who he has only ridden for two weeks, were the only ones that could stop Platt taking home the coveted prize, but an unfortunate four faults from Clarke meant she retained her lead.
Speaking of her victory, Platt stated: "It is such an unbelievable feeling. I love jumping here at Royal Windsor – it is a dream come true to win. I have been at university, so I haven't ridden him for the past two weeks, but he is super reliable and really tries for me. I have had him for three years, so we have a great partnership."
To conclude Royal Windsor's Showing classes, the final day hosted multiple exceptionally high standard Championships. Isabella Walker, known as Izzy, proved a chip off the old block when landing her first Royal Windsor Open title in The Hästens Show Pony Championship, riding the loaned pony Stoneleigh Showtime. Despite this occasion being Izzy's first time in the magnificent Castle Arena, she showed no signs of nerves, upholding her family name and becoming a popular winner.
In The Martin Collins Enterprises Frogmore Arena, it was Olivia Minihane riding Veuve Cliquot who were crowned winners of the Working Hunter Pony Championship sponsored by The Williams Family. Meanwhile, Georgina Storey riding Emma Andrews' Greylands Maid At Sundown won the Show Hunter Pony Championship sponsored by Across The Pond Exports in the Copper Horse Arena.
The climax of the International Driving Grand Prix took place with Competition C, the Obstacle Cones. The CAIO4* World Cup Qualifier saw Boyd Exell's four-in-hand team deliver a thrilling performance to secure the Australian his twelfth win at Royal Windsor Horse Show. During the drive through the twenty sets of cones, Exell's hopes were questioned for the first time in the competition, after accumulating three penalties at the last obstacle. This meant the defending champion's team finished behind both Ijsbrand Chardon and Mareike Harm's teams in the third round. However, Exell's team had done enough by winning the Driven Dressage and The Marathon to defend the title, finishing 8.43 points ahead of the Dutch runners-up Chardon and 24 points ahead of Harm's team, who finished third.
In the CAI3* Horse Pairs, the course was evidently tricky with no double clears to note on the score sheet. Whilst Erik Evers of the Netherlands won the Obstacle Cones element for the Pairs, it was not enough to beat fellow patriot Rens Egberink overall. In the CAI3* Horse Single class, double clears from Mario Gandolfo, Marie Schiltz, and Great Britain's Tara Wilkinson kept them in the rankings of first, second, and third, respectively.
Video of the Day: https://youtu.be/nK0juUVi0E0
To find out more about Royal Windsor Horse Show, or to book tickets, visit www.rwhs.co.uk.
For more information, please contact:
Niki McEwen / rEvolution / nmcewen@revolutionworld.com