(Last Updated On: September 2, 2023)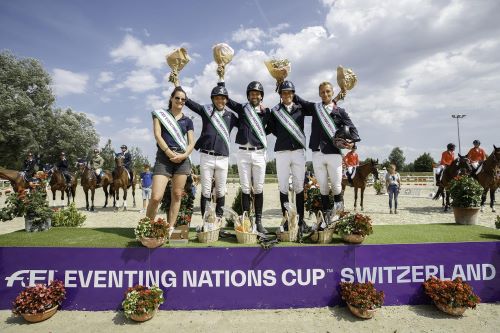 France achieved the rare feat of two back-to-back wins in the FEI Eventing Nations Cup™ Series, this weekend. This was the sixth leg of this popular Series, which took place at Avenches (SUI).
Fresh from their victory on home turf at Haras de Jardy (FRA) last week, this week saw a largely different but experienced team compete, with only Maxime Livio competing again on a different horse. The team in Avenches, which also included Raphaël Cochet, Christopher Six, and Mathieu Lemoine, were strong in all three phases, scoring 135.5 to finish with a comfortable lead over team Italy, who completed on 148.9. Italy was delighted with this, after climbing from sixth after the dressage phase. Meanwhile, Switzerland, the home nation, had a less than desirable experience in the jumping test to drop from overnight second to third, with a final score of 155.0.
With all eyes on Paris, the French have shown much of the strength and depth they have to offer during this Series. If all continues to go to plan, they could be strong medal contenders at their home Olympic Games. This is their third Nations Cup victory out of just three attempts this season, having won at Chatsworth (GBR) in May as well as Haras de Jardy. Significantly, all three events presented particularly challenging cross-country tracks in terms of jumping efforts and making the time allowed, and the French have excelled in both jumping and cross-country phases in all their performances. Each French team has presented a different line-up of athletes and, in all cases, the individual winner was also a French team athlete.
In Avenches, it was time for Raphaël Cochet to shine, taking the CCIO4*-NC-S individually. He rode one of the fastest cross-country rounds of the day on his super Selle Francais mare Difda du Very, and despite lowering one rail in the Jumping phase, he slipped just ahead of Felix Vogg after the Swiss rider had two fences down.

Speaking after his performance, Cochet said: "I never expected to win here. I came here focusing on winning with the team but wasn't thinking about an individual win at all. My mare Dijda du Very is a very complete mare, who is good in all three tests, but there are so many factors that play a role first with Dressage, then the cross country and Jumping phases, that winning here is really an incredible feeling and gives very special emotions.
"Competing in an FEI Nations Cup is foremost a great pride for me to compete for my Nation. Our sport is primarily an individual sport and when you can compete within a team with riders with whom you are close friends, it's a very special feeling. A win with a team has a really incredible flavour."
The event took place at the Institut Equestre National d'Avenches (IENA) – also the site for the 2021 FEI Eventing European Championships, as well as the FEI European Pony Championships for Dressage, Eventing, and Jumping in 2008. It is on the outskirts of Avenches, the former capital of Roman Helvetia, and is considered one of the most beautiful villages in Switzerland. The riders were full of praise for this picturesque and well-run event.
"We discovered the venue here in Avenches during the FEI Eventing Nations Cup™ last year and we really loved it. The care given to the cross-country ground is amazing and so important for us and our horses; we will surely be back," said Cochet.
There were eight nations competing in Avenches, all from Europe. This Nations Cup series is of particular significance to some nations this year. The highest placed team according to the final team classification of the FEI Eventing Nations Cup™ Series 2023, excluding teams/NOCs already qualified, will be allocated a place for Paris 2024. The Belgians still lead the Series at this early stage, with 510 points scored. This was very much their aim this season, as they have not yet qualified for Paris.
The seventh leg of the FEI Eventing Nations Cup™ moves to Bromont (CAN), which runs from 11-13 August. Bromont Horse Trials is one of the most important equestrian events in Canada and the only FEI Eventing Nations Cup™ leg in the Americas.
Results from Avenches can be found here.
by Eleanore Kelly