(Last Updated On: September 2, 2023)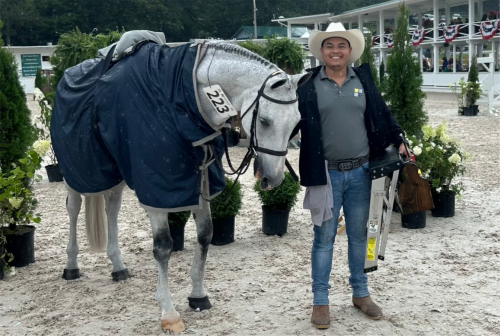 Aug. 1, 2023 – Blowing Rock, NC – Ricardo Ramirez and Saul Carmona topped a field of 17 entries to win the $2,000 Equestrian Aid Foundation Grooms Class at the Blowing Rock Charity Horse Show on Sunday. Ramirez, handling Margery Hartley's Dreamwork, earned Hunter Groom honors, and Carmona was awarded top spot in the Jumper Groom category with Sherri Geddes' Cold Play.
The annual EAF Grooms Class at BRCHS is a labor of love for EAF board member Missy Luczak-Smith of Upperville, VA. Since its inception, Luczak-Smith has worked tirelessly to secure the sponsorships, prize money, and incentives necessary to make the class a celebration and showcase of the equestrian industry's grooms. "EAF is all about the people," said Luczak-Smith. "We're committed to the workers who keep our community moving, and we're thankful to BRCHS management for inviting us back every year to recognize that commitment through the grooms class."
This year, in addition to prize money and a supply of Shapley's grooming products, all class participants received products donated by BRCHS and Equine Elixirs, gift certificates to Atlanta Equine Massage and The Green Frog, and ProFit massage guns. The prizes were packaged in branded ring bags, generously donated by Katrina Coldren of The Clothes Horse. "The grooms work so hard and they deserve to be recognized and rewarded!" said Coldren.
The two winning grooms also received tack room chairs from The Chair Shop. In addition to generous supporters from equestrian industry businesses, Luczak-Smith recognized Michael Check, Ellen Weaver, and Liz Luczak for their contributions to the class prizes.
Click here for full class results.
For more information, please visit EquestrianAidFoundation.org.