(Last Updated On: September 2, 2023)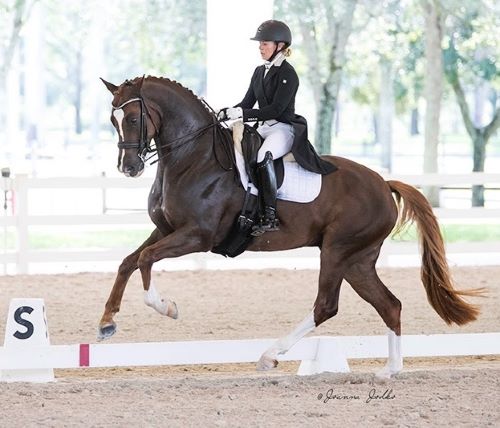 Wellington, Florida (August 21, 2023) – When asked about Lion King, Endel Ots stated without hesitation, "I've never sat on a horse as talented as this one." A strong statement from Wellington, Florida's nine-time Markel/USEF Dressage National Champion.  Ots, whose most recent National Championship was astride King's Pleasure in the 2022 inaugural USEF Young Horse Dressage National Championships for Seven-Year-Olds, has his hopes pinned on another king, Lion King, the flashy chestnut gelding with the amazing gaits, that is already being labeled as a phenomenon. 
Ots co-owns Lion King with Caroline Hordum, who will ride the seven-year-old in pursuit of this year's title at the 2023 Festival of Champions, August 21-27, at HITS Chicago at Lamplight Equestrian Center, in Wayne, Illinois.
Going into the championships, Lion King is undefeated in the show ring, whether ridden by Endel Ots or Caroline Hordum, drawing attention from judges and spectators alike.
Three years ago, Lion King's brilliant gaits, elasticity, and personable work ethic captured the attention of Hordum and Ots while shopping for fresh prospects in Holland, where Hordum had worked at Stal Witte B. V. stud farm in Schijndel.
"Lion King is gifted with three very correct impressive gaits," explains Ots, "but it is his desire to please that makes him a such a joy to ride and train.
"Each test, he gets better and better," Ots says, going into one of the most important tests of Lion King's rising career. "His trainability is amazing. He's very responsive and loves his work." And personality? "He's like a big puppy dog in the barn. If you start scratching his withers, he'll never let you leave." That amenable nature, combined with the horse's natural athleticism, have made it easy to build on a familiar and proven program.
"It's the exact same game plan as I had with King's Pleasure. Start at Third Level, bring them up to the Seven-Year-Olds, build confidence and a sense of direction at a competitive level, and then aim them for the CDI and small tour as they develop." The formula has worked for Ots year after year as he has amassed an impressive string of National Champions at the Festival of Champions from the young horse divisions through the developing horse Grand Prix.
This year the veteran champion wants Hordum to experience the thrill of competing Lion King in hopes of him being named the best seven-year-old dressage horse in the country.
"It's very important for her development to go out and show. And Lion King is so special. It's fun watching their partnership grow. They are so connected. They're really a sight to behold, Caroline being such a little thing piloting such a big spectacular force," says this recurrent champion.
"It's not just about training a horse to be successful for me to ride," says Ots. "They must be able to do their job with another rider. Well-rounded training means someone else can go through that experience with them and do the same thing. I get a lot of joy out of coaching, and I am proud of the riders I have helped develop and reach their goals, although I get way more nervous watching a test than riding a test," he adds with a chuckle.
So, this week Ots will coach Caroline aboard Lion King with the hopes of watching a second "King" earn crowning glory at the Festival of Champions.
Back in Florida, Ots has openings in his program for a few horses and riders with big aspirations. "I love training horses and coaching riders to help them reach their goals. I know I have a knack for both and maybe that is why I enjoy it so much."
First, another Markel/USEF Young Horse Dressage Championship competition awaits.
For more information, contact:
Endel Ots
endelots@me.com
www.endelotsdressage.com